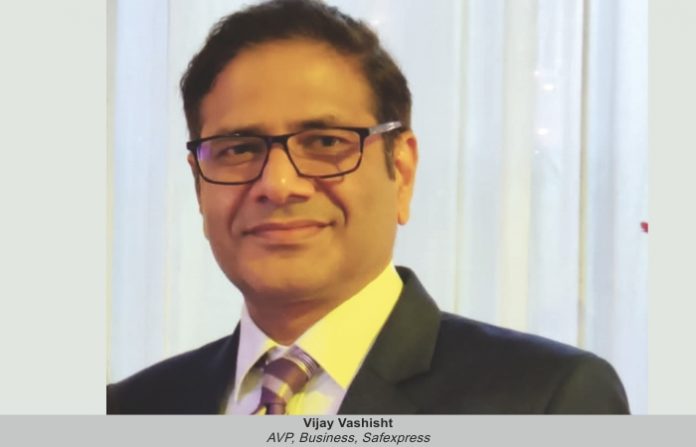 They have broken the ground for digital innovation, so far as bringing about transparency in operation is concerned. Distribution has come a long way from 1990s.  Today, instant online phone-based order tracking and real-time processes are an expectation of doing distribution business, says Vijay Vashisht, AVP, Business, Safexpress.
How has the delivery scenario changed from 2020 to 2021?
Distribution is a service to manufacturers what publishing is to an author – it gives voice and reach that both are dependent upon. They are unsung heroes which even though provide the fulcrum on which the sale and marketing strategy revolve; they get a cold shoulder in return. For manufacturers the world over, it is logistics and distribution network that is the important and least visible cog in its customer connect.
Since the beginning of last year, when COVID-19 was raging, the manufacturer's strategy to connect with consumers exposed the importance they attached to distribution. It is after all, the distribution partner who is exposed to the dynamics on the long haul and challenges in the last mile delivery. This was especially so in B2B distribution where the movement was in bulk, but required both manufacturer and distributor to be open to the services.
So, what happened was there was disequilibrium between demand and supply — localized lockdowns and movement curbs. The supply issues during the second half of last year generated a pent up demand by the manufacturers; distributors and retailers could not consume due to a plethora of reasons. The distribution partners and retailers were either closed down due to curbs or had the capacity to absorb new supplies. This was not a place to be in for the distribution partner, several of whom took the brunt. It took months for the situation to normalize.
Also, it brought all the stakeholders closer to each other, and to understand and appreciate the role that distribution partner play, but are hardly recognized for.
What are the lessons learnt in the pandemic to make deliveries more efficient and on-time?
There is no substitute for network optimization in logistics and distribution business. Network optimization means availability of delivery offices in proximity to the delivery area, with several trucks available with the delivery office to service the requirement on time. Network optimization means that the turn-around-time in loading and unloading activities is reduced.
We have sought to address these teething problems by developing logistics parks with cantilever sheds, multiple loading, and unloading bays. Availability of skilled manpower, and mechanized tools make operation-floor activities user-friendly while enhancing cargo transit-worthiness at the same time.
Continued investment in network expansion and infrastructural development connecting hubs with spokes reduce transit time in the long run considerably.
How has digitization played a role in making delivery seamless?
Logistics and distribution in every way has broken the ground for digital innovation, so far as bringing about transparency in operation is concerned. In fact, distribution was one place where the need for transparency was felt the most. Distribution business has come a long-long way from 1990s. Those were the days when an enterprise would place an order and come to know about it only when it came for delivery. There was no way of knowing the progress or the time-frame involved. The enterprise could call the supplier who, in turn, had no knowledge itself. Cut to today, instant online phone-based order tracking, along with a comparable real-time processes, are an expectation of doing distribution business. This has sort of become a business practice which is now assumed as "given" and thus is no longer competitive.