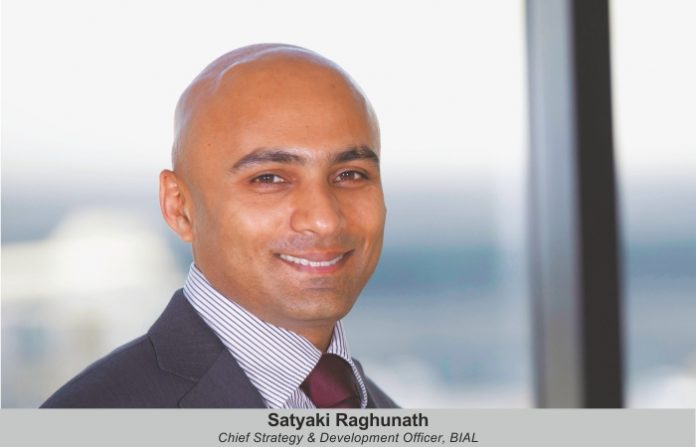 Kempegowda International Airport, Bengaluru, being one of India's fastest growing cargo airports, plays a key role in bolstering regional and national economies, thereby becoming the most favoured cargo hub for South India. Satyaki Raghunath, Chief Strategy & Development Officer, BIAL, elaborates on the various achievements.
Priyanshi Bana
Kempegowda International Airport, Bengaluru (BIAL) had a fantastic year in 2021, winning many global accolades for outstanding service excellence. As India's third busiest airport, it has made significant contributions to the country's aviation growth story by establishing robust connectivity to non-metro cities. Hence, the airport has emerged as South India's favoured transfer hub. Thanks to its robust cold-chain infrastructure, BIAL has transformed itself into the preferred choice for perishable shipments in India.
Handling perishable shipments with utmost care
BLR Airport, with a cold-chain handling capacity of 60,000 MT, emerged as the country's No. 1 airport for perishable shipments in FY21, processing 48,130 MT of perishables. It accounted for 31 per cent of total perishable shipments in India, and per the Agricultural and Processed Food Products Export Development Authority's (APEDA) data for FY21, BLR Airport was India's No. 1 airport for flower exports. The terminal's Plant Quarantine Inspection and Certification facility enables seamless and faster transit of flowers. During the same period, BLR Airport also emerged as the No. 1 airport for poultry product exports. It processed a total of 28,182 MT of poultry products. The perishables were transported to 46 overseas locations by 24 aircraft.
In the run-up to Valentine's Day this year, it saw an almost two-fold rise in rose exports. The airport helped in the movement of about 5.15 lakh kg of roses to 25 international and domestic destinations, compared to 2.7 lakh kg shipped in 2021. The domestic market's demand for roses during the season increased significantly. Domestic shipments grew substantially, rising to 3.15 lakh kg (6.5 million stems) in 2021 from 1.03 lakh kg in 2021, indicating over a 200 per cent increase. This year, around 2 lakh kg (7.3 million stems) were sent to international destinations, up from 1.7 lakh kg last year. "Bengaluru is the biggest exporter of roses in India. At BLR Airport, we take pride in becoming a channel to aid the local community, cultivators, and shippers by facilitating the shipment of their produce while maintaining freshness. Our cargo infrastructure, powered by technology, provides rapid distribution of perishable cargo, making BLR Airport the preferred cargo airport in South India. We will continue to work with our cargo partners to introduce new initiatives and facilities that cater to constantly evolving demand," said Satyaki Raghunath, Chief Strategy & Development Officer, BIAL.
Robust cold-chain infrastructure operated by Air India SATS and Menzies Aviation Bobba Bangalore, as well as enough airline capacity to key global markets. Since time is critical in perishable logistics, BIAL has invested in several tech-driven interventions to ensure that products reach their destination while still offering the same freshness, quality, and appeal to consumers. These interventions ensure that there is no temperature excursion, reduce handling time, and speed up clearance of consignments, enabling farm-fresh commodities to reach their destinations within 24 hours of harvest. AISATS Coolport is the airport's dedicated cold zone, with a capacity of 40,000 MT per year and temperature zones ranging from -25°C to +25°C under the same roof. Menzies Aviation Bobba Bangalore has a cold zone as well, with a capacity of 20,000 MT per year and the ability to handle 20 ULD Pallets from 15°C to 25°C and two ULDs from 2°C to 8°C.
Cargo tonnage on growth trajectory
In the midst of COVID-19, BLR Airport registered its highest-ever cargo tonnage. It processed an all-time high tonnage of 406,688 MT of cargo for CY2021, exhibiting a significant rise of 28.6 per cent over 316,305 MT in 2020. This is 7.2 per cent more than the pre-COVID-19 tonnage of 379,348 MT in 2019. The data indicates that foreign freight increased by 32.8 per cent, with 265,873 MT handled in comparison to 200,209 MT in 2020. Domestic freight increased by 21.3 per cent, with 140,815 MT processed versus 116,096 MT in 2020. The airport's current cargo capacity is 715,000 MT per year. This may be extended to 850,000 MT. It aims to expand its cargo infrastructure to a capacity of 1.5 million MT by the mid-2030s. The airport conducts around 30 to 33 daily freighter movements to maintain the record cargo tonnage shipments. Currently, 14 dedicated freighter planes fly to and from the airport, with passenger aircraft providing extra belly capacity. Perishables, pharma, chemicals, and textiles are driving growth in the export category, while electronics, heavy machinery, healthcare, and life science products are driving growth in the import category. Notably, BLR Airport has emerged as the country's No. 1 airport for perishable exports, accounting for 31 per cent of all perishable shipments in India for FY21.
Embracing technology
Since cargo was the sole functioning sector during the pandemic, digitisation became even more vital. Airports were on their toes for providing the best services in the shortest amount of time while maintaining efficiency. BLR Airport undertook major duties to boost operational efficiency by offering cutting-edge infrastructure, technology, and other facilities. The Airport Cargo Community System was established to streamline cargo operations.
Express cargo terminal: It is India's first dedicated ECT that has enabled ease of doing business and a reduction in transaction time and costs. With express courier shipments gaining greater significance and growth of e-commerce, the ECT at BLR Airport is a first-of-its-kind facility at an Indian airport.
Public bonded warehouse: It aids the re-export of cargo, long-term storage of bonded cargo, partial clearances, and value-added services. Bengaluru handles a large volume of imports due to the presence of IT and biotechnology firms, multinational corporations, and retail brands.
Airport truck management facility: Within the airport campus, there is a specific airport truck management facility. Shell manages and operates the facility. It enables cargo supply chain partners to arrive at cargo terminals on a timely basis after being processed by the ATMF, reducing landside congestion and boosting terminal throughput/processing times.
Road feeder service (RFS)-catchment area connectivity: BLR Airport, along with its cargo partners, initiated LogiConnect, a bonded and non-bonded trucking service from various parts of South India. This covers trucking services from Tirupur, Coimbatore, Ambur, Salem, Erode, Hyderabad, and Chennai to BLR Airport on a regular basis.
TAG Box: It is an integrated IoT-based solution used at the airport to enable live monitoring of temperature-sensitive products.
Envirotainer: This enables pharmaceutical firms and their logistics partners to move temperature-sensitive cargo around the world while maintaining product integrity and quality during the journey.