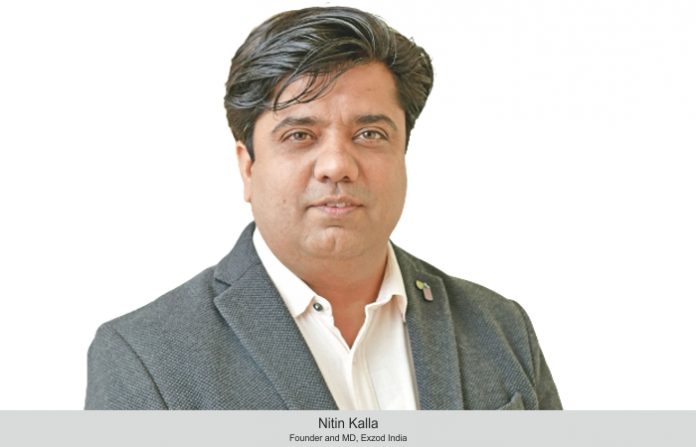 With opportunities in pallets market in India, we are expecting to deliver 10 lakh pallets in the next three years from the current eight lakh pallets, taking the company's pallet count to 18 lakh to make it the leading manufacturer. Our aim is to cater to new segments, says Nitin Kalla, Founder and MD, Exzod India.
Ritika Arora Bhola
Tell us about the genesis of your operations in the Indian market. What kind of products and services do you offer to your clients?
Exzod India was founded in 2018 and we have a team of well-experienced professionals having an exposure to the pallet industry and are experts in supply chain management. We provide customized packaging solutions used for storing and ferrying products across the supply chain.
We have a pan-India presence with four manufacturing sites in India. Exzod manufactures wooden pallets made of environment-friendly soft wood used for storing and moving finished products/raw materials across the industry segments ranging from consumer, e-commerce, fast moving coneumer goods, and retail. We are engaged in renting/leasing pallets for companies that want to reduce their capital expenditure, storage
costs and improve their efficiency. The company manufactures wooden boxes that are sold to the auto and glass industries, and finally, we offer AMCs and repair services to clients on a contract basis, whereby Exzod takes care of the maintenance of the pallets. We have partnered with more than 50 customers across sectors such as Reliance, LG Electronics, Abbott Healthcare, Pepsico India, DHL Logistics, Flipkart, and Amazon,
among others.
How do you ensure customer satisfaction and quality when it comes to transportation of pallets to different locations? What are your supply chain management strategies?
Customer satisfaction is the core of our operations. In a competitive world, an efficient supply chain is the bedrock of a successful company. As the economy grows and companies expand, we see an increase in demand for pallets in India. We have four manufacturing plants located in Punjab, Maharashtra, Telangana, and Haryana. They are equipped with modern automatic pallet manufacturing machines. This makes the company a pan-India pallet manufacturer and enhances the company's delivery and servicing capabilities. This would enable the company to consolidate its position to sign large brands, logistic parks and other four PL companies who have pan India presence and act as an entry barrier for new entrants.
What are the pain points in the logistics sector?
Warehouse management is the key to bringing efficiency in delivering goods. In India, automation in warehouses is still at a nascent stage and changing day by day to reach global standards. Worldwide palletization had ensured automation in the overall management of warehousing, while India has started moving towards palletization a decade ago. Palletization helps the brands, FMCG companies, e-commerce, automobile, pharma and 4 PL companies to bring in efficiencies be its stock management and delivery.
The Indian logistic sector has come a long way in building road, railway and air transport infrastructure and adopting advanced systems, still there is a lot of opportunity for domestic and international players to bring in efficiencies across the parameters be it cost and time among others.