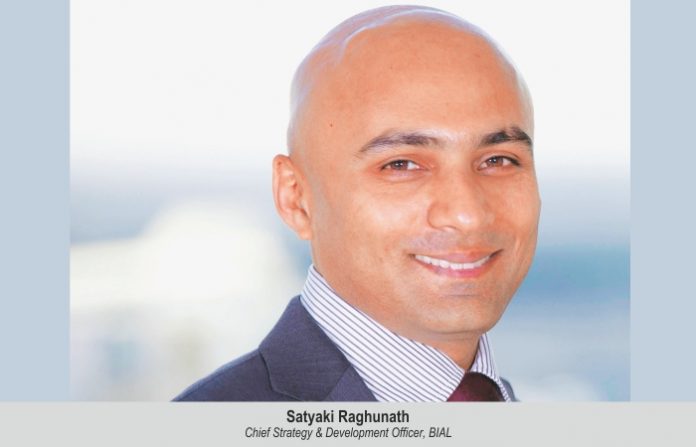 Kempegowda International Airport, Bengaluru is looking ahead to refurbish existing cargo terminals with enhanced capacity and expand cold-chain facility. Satyaki Raghunath, CSDO, BIAL says, with government focusing on improving logistics efficiency through initiatives such as PMGS, and NLP, we are expecting to have favourable cargo environment.
Ritika Arora Bhola
Bengaluru Airport recorded an impressive all-time high tonnage in FY-2021. How was the year 2022 for the cargo operations at BIAL?
Air cargo volumes have witnessed a faster recovery and the Kempegowda International Airport, Bengaluru (KIAB/ BLR Airport) reported its highest-ever cargo tonnage in fiscal year 2022. BLR Airport processed an all-time high tonnage of 411,513 Metric Tonnes (MT) of cargo in a fiscal year since Airport Opening Day (AOD), recording a 26 per cent increase when compared to FY 2021. Perishable cargo has been one of the key development drivers for BLR Airport. The airport accounted for 41 per cent of all perishable shipments in India in 2022 as compared to 31 per cent in 2021. Our recent partnerships with multiple cargo partners strengthen our position further in the cargo market. Owing to our partnerships and the volume of cargo handled, BLR Airport has become the country's only major airport to exhibit growth that's more than pre-pandemic levels.
Apart from the perishables, what are the other key growth drivers for BIAL?
Apart from perishables, the other categories that have been key drivers of growth are agricultural perishables, pharmaceuticals, readymade garments, engineering goods, electricals, electronic goods and spare parts, and medical equipment. Our focus on developing world-class infrastructure, investing in technology, and achieving operational efficiency, along with a resilient environment, has allowed us to complete FY 2022 with record cargo and passenger numbers.
BIAL recently entered a partnership with WFS to develop, operate and maintain one of the cargo terminals for WFS from 2023. Tell us about this upcoming new cargo terminal.
The cargo terminal at BLR Airport granted to WFS has a capacity of around 210,000 MT per year. WFS will use it exclusively for international cargo. WFS will reorganise the facility to boost its throughput capacity potential to accommodate cargo volumes more than 250,000 MT yearly. WFS will undertake a two-phase development of the dedicated Cold Chain Facility at the airport, initially doubling its capacity to 80,000 MT per annum, before growing to a throughput capacity of more than 150,000 MT per annum following the conclusion of phase 2. India, the world's sixth-largest economy, is the single largest provider of generic drugs, handling well over the total global demand and accounting for half of the global vaccine manufacturing market, and ranks amongst the world's fastest-growing aviation markets. We would like to prepare for this growth by investing in the right infrastructure.
How would you rate infra at BIAL for variety of cargo handling. Do you think its adequate to meet the growing demand?
Air freight volumes through BLR Airport have grown over the last decade with a CAGR of 11 per cent (pre-COVID). As per internal estimates, the airport's unconstrained cargo potential is estimated to be 1.7 – 1.9 million metric tonnes per annum (MTPA) by 2038. This estimate was arrived at considering the natural catchment areas of Bengaluru and the proximity of trucking distance that is 7-12 hours from major export and import hubs in the region. The design capacity of the airport's cargo ops by the end of the financial year FY 21/22 was enhanced from 570,000 MTPA to 715,000 MTPA. Over the next decade, we will invest in new infrastructure and facilities to meet demand.
Elaborate about the recent developments Express cargo facility, LOGI Connect by BLR' system for bonded trucking at AISATS?
We launched the country's first-ever dedicated Express Cargo Terminal at BLR Airport. The terminal has been launched for the export and import of global couriers. This 2,00,000 sq. ft. built-to-suit facility houses leading global express courier organisations such as DHL Express, FedEx, and UPS. The Express Industry Council of India (EICI) operates the Common-User Express Terminal within this facility.  This exclusive terminal for express couriers at BLR Airport will boost the region's trade and economy. It will enable ease of doing business. BLR Airport has also created a facility which is a cargo-boosting initiative. A five-acre dedicated truck-parking facility, India's first 'Airport Truck Management Facility', has been developed within the airport premises. The facility offers 250-truck parking bays with food and beverage outlets, dormitory facilities, and hygienic toilet facilities for drivers. This has enabled the operators to enhance their operational efficiency and enable smoother and faster handling of cargo.
BLR Airport houses the first of its kind '24×7 On Airport Public Bonded Warehouse' in India. Operated by Cargo Service Centre (CSC), the 10,000 sq. ft. warehouse facility is under the jurisdiction of the City Commissionerate, Bengaluru Customs. This facility has reduced supply chain costs and facilitated trade at India's IT hub and surrounding regions. The Public Bonded Warehouse assists in the re-export of goods, and long-term storage of bonded cargo, assists in partial clearances and services such as labelling and packing among others.
BLR Cargo introduced the Air Cargo Community System (ACS) in association with Kale Logistics. ACS enables real-time information to our cargo terminal operators and stakeholders along with ensuring sustainable practices. ACS has made the air logistics process streamlined and paperless and has ensured the development of a technologically enabled cargo community at BLR Airport, with around 95 per cent adoption from the cargo community in Bengaluru till date.
What is the BIAL's overall market share in terms of cargo throughput at a country level and in South India?
During CY 2021, the airport processed an all-time high tonnage of 406,688 MT of cargo.  This is 7.2 per cent more than pre-COVID level tonnage of 379,348 MT in 2019. Global cargo recorded a 32.8 per cent growth, 265,873 MT.  Domestic cargo grew at 21.3 per cent, 140,815 MT processed vs 116,096 MT in 2020. The airport recorded its highest-ever cargo tonnage in FY 2022, despite challenging circumstances due to multiple COVID waves. The airport processed a record tonnage for a fiscal year since Airport Opening Day (AOD) of 411,513 MT of cargo, recording a growth of 26 per cent as against 326,643MT in FY 2021.
How do you foresee cargo ops expanding in 2023?
According to internal analysis, the Airport's cargo potential is estimated to be 1.7–1.9 million MPTA by 2038. With the fast-paced growth in business and rising demands, we intend to remain at the forefront of providing world-class facilities, infrastructure and technology to our customers, partners and stakeholders. We are looking at the development of a new domestic cargo terminal, refurbishing the existing cargo terminals with enhanced capacity and the expansion of cold-chain facility.
With the government getting involved and focusing on logistics efficiency and infrastructural development through initiatives such as PM Gati Shakti Masterplan and National Logistics Policy, we are expecting to have an extremely favourable environment to grow our cargo business. We believe that we can cater to around 1.5 million MT of cargo annually in the next decade and we are preparing for that.