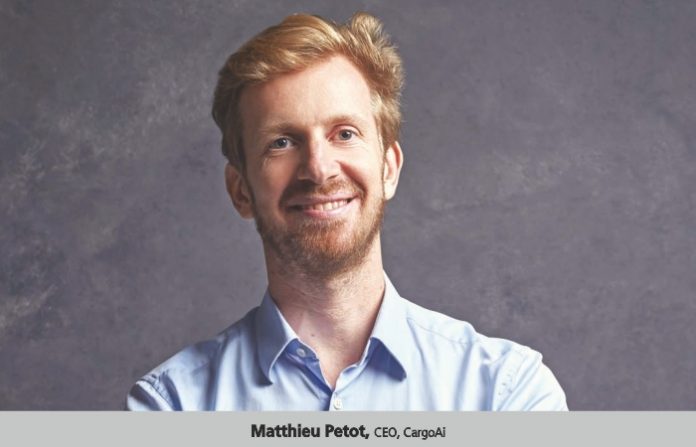 CargoAi offers digital solutions that are tailored to the air cargo industry. Matthieu Petot, CEO, CargoAi, shares his perspective of digitalisation. He believes that solutions must be simple and make users' lives easier in a tangible way just like the tools we use in our everyday lives. 
Kalpana Lohumi
Q. What was the idea behind launching CargoAi?
The airfreight industry has always been 'dusty' and terribly lacking in new technologies and high-end solutions. The idea came to me in 2019, when I came back to airfreight after an experience in innovation at Dyson, and nothing had changed. It was still relying on EDI and traditional and inefficient sales processes. In the meantime, all industries have dramatically improved in the last 20 years in e-commerce, e-purchasing and CRM, but not airfreight.
CargoAi is a huge step forward in digitalisation for the industry because the team is formed of tech specialists and in particular of airfreight specialists who understand the sector's needs perfectly. This combination allows us to offer digital solutions that are tailored to the air cargo industry and its specific characteristics, all while offering the greatest possible simplicity (our solutions can be used right away and do not require any effort from airlines or long roll-out periods). We believe that in order to be used and adopted, solutions must be simple and make users' lives easier in a tangible way – just like the tools we use in our everyday lives. And that's what we've put in place.
Q. When already so many booking platforms are available in the market, do you have any strategy in mind to endure the competition?
Most airlines are working on their connectivity and it doesn't make sense for them to work exclusively with only one digital platform. We will all have a lot of work in 2021 as the market is booming and our penetration rates are growing exponentially. Even with COVID, which has caused a lot of financial difficulties, most airlines pursued their efforts and investments to connect to digital applications. For some of our services, webcargo and cargo.one can be considered our competitors, but the three of us have probably captured less than three per cent of the total booking market so it is not worth fighting too much for and it is not wise to only focus on each other. We are all busy enough coping with the amazing growth of our market.
Q. What is your USP that makes you different from other digital platforms?
We are unique in three key areas:
We are the only application via which a forwarder can request quotes from and bookings with 100 per cent of airlines. On CargoAi, our users don't need to have a different process to work with other airlines – they are all under the same roof.
We have solutions for airlines, GSAs and forwarders, no matter if they are big or small, via our online application or via APIs. The APIs allow easy integration into their current system.
We use the most modern and secure technology. Our solutions are going to last for a long time and do not rely on old and slow architecture.
Q. What major challenges do you see in the air cargo industry?
From a forwarder's point of view, the airfreight purchasing process is still very traditional. Other industries used to have the same kind of processes but have evolved with modern tools and processes over the last 20 years to become faster and more optimised and to reduce potential compliance issues.
The same is true from the airline perspective for sales processes; only a few airlines are looking at implementing a CRM and still the majority don't know what one is or have ever heard about Salesforce – a giant company that has penetrated every sales process in every industry for the last 20 years. These are two great examples of inefficiencies. Our approach is to look at all this from a different angle and see where it can be improved and how we can help using modern technologies. As such, we work on the many different issues surrounding digitalisation in airfreight, and simplicity is our goal. With our partners, we carry out all of the technical work upstream so that airlines can be visible on our platform without them having to do anything and so that forwarders can instantly access and book these airlines' capacity.
Q. What are your expectations from the Indian market to support your business?
India is a country, where technology is being adopted quickly. We are working with a growing number of Indian companies and they are very well advanced compared to other parts of the world. It is great to be here and we are getting some good partnerships in place to grow at a rapid pace. The partnership with IBS Software (iCargo) is an excellent example of the synergies that we are creating to help digitalise airfreight. Some markets are highly dynamic, including the Indian market, but we don't limit ourselves to certain regions – we work on a worldwide basis, just like our industry.