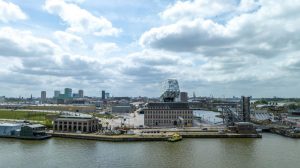 In a strategic move aimed at strengthening trade ties and fostering collaboration between India and Belgium, Mr. Koen Cornilly, Manager of Port of Antwerp-Bruges International, embarked on a high-profile roadshow across key Indian cities. With stops in Delhi and Mumbai, this trip underscores the commitment of the Port of Antwerp-Bruges to expanding its global reach and deepening relationships with Indian businesses.
Delhi: Promoting Belgium as an Economic Hub
Mr. Cornilly's tour kicked off in Delhi. He participated in the Indo-Belgium seminar organized by the Embassy of Belgium. The seminar aimed to highlight Belgium's status as an important economic hub in Europe and explore avenues for bilateral trade expansion. Mr. Cornilly's presence and insights contributed significantly to the discussions surrounding economic cooperation between the two nations.
Mumbai: A Hub for Maritime and Economic Diplomacy
Continuing his journey, Mr. Cornilly arrived in Mumbai, the bustling financial capital of India.
Mr. Cornilly participated as a distinguished speaker at the Global Maritime India Summit. His address focused on the vital role that the Port of Antwerp-Bruges plays in international maritime trade and its commitment to sustainable practices. This engagement offered a valuable platform to showcase the Port's expertise and collaborative spirit on the global stage.
Mr Cornilly also met with leading States' authorities to discuss on Port of Antwerp-Bruges' capabilities and its potential role in supporting development of industry led port development in the respective states. Antwerp is home to the largest integrated chemical cluster in Europe. The diversity of the industry is unique in the world. It brings some of the most cutting-edge logistical experts together for the safe storage, handling and distribution of oil, chemical products and gases.
Throughout his tour Mr Cornilly met with captains of industry, where discussions centered around fostering closer trade relations between the Port of Antwerp-Bruges and Indian companies. These meetings aimed to explore potential collaborations, investments, and business opportunities between India and Belgium. Mr. Cornilly emphasized the Port's commitment to sustainability, digitalization, and innovation, which align with India's aspirations for growth in the maritime sector.