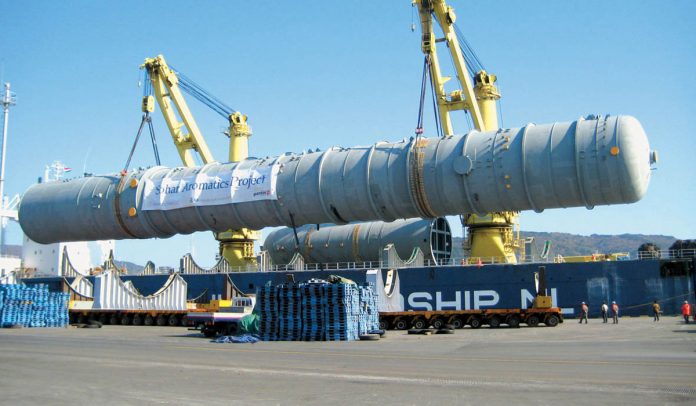 Project cargo is a segment where nothing can be left to chance each time such a movement is to be executed. The cargo, if damaged while stuffing, loading or unloading, will be of no use to the consignee, and will only result in loss of precious time and money for those involved. Industry experts share with CARGOTALK their opinion…
When transporting project cargo, a high level of risk comes into the picture due to the unique nature of the goods. Since every cargo doesn't fit into a standard logistics solution, cargo with larger dimensions requires a different set of equipment and infrastructure, as well as experienced personnel. The segment has emerged as a lucrative business for logistics players in India and Indian ports are also readily adapting to project cargo needs. Recently, JNPT successfully carried out the loading of a heavy-lift export project cargo that consisted of sub-assemblies of barge-loading machine for mine development, headed for Guinea, Africa. The consignment of 1115 MT had 132 packages of which the single heaviest piece (main boom-shuttle boom assembly) had a length of 62 metres and weighed 384 tonnes. CARGOTALK delves into the intricacies of transportation of project cargo, the demands of this lucrative segment, and the potential it holds in the Indian logistics industry.
Steve Felder, Managing Director – India, Sri Lanka, Bangladesh, Nepal, Bhutan & Maldives, AP Moller – Maersk, says, "Owing to a re-inventive domestic manufacturing segment, along with government-supported initiatives like the Sagarmala project, there has been an improvement in containerised cargo. The overall export potential for special cargo in India is around 130,000 TEUs per annum growing at a CAGR of nine per cent."
Cyrus Katgara, Partner, Jeena & Co, shares, "Due to India's vast coastline and massive road and rail network, there is great potential. Moreover, with rapid growth in infrastructure development in the country, there is good opportunity for those involved in project cargo. Infrastructure developments are continuously taking place coupled with key government projects. This has opened new avenues for the Indian logistics industry. For example, setting up of power plants, expansion of existing refineries, or urban infrastructure development across cities require heavy and oversized cargo to move from different places around the country or even move from overseas."
Vaibhav Vohra, Managing Director, Continental Group, says, "The logistics industry has seen an encouraging growth in the last three years in driving project cargo with great success, by moving the production plant from a parent company to the desired location without many hurdles due to development in infrastructure activity across India. Throughout 2017 and Q1 2018, there has been persistent demand for the project sector from industries such as aerospace, oil & gas, and energy. The recovery and stabilisation of the oil and gas market has increased demand for oil and gas equipment."
Speaking of challenges that have a great influence on the air freight business around the world, he adds, "There remains a high level of volatility with fluctuation in demand, fuel prices and major world currencies, not to forget the continuing political unrest and environmental issues. It is becoming harder with every year to plan, given these complexities. We see persistent demand from 'traditional' industries – oil & gas, aerospace, energy, automotive and humanitarian – as they are the main growth drivers for oversized air freight transport. Mostly, it is bolstered by reviving oil and gas projects in different regions of the world, which require essential equipment and tools."
"Project Logistics has been on a consistent growth in recent times with government focusing on several infrastructure projects like metro rail in various cities, airport projects, etc. The core industries have been a little slow, however, the alternate energy sector has provided scope for project logistics growth," adds Transworld Group's CEO, TN Seetharaman.
Sharing his opinion, Amit Tandon, Managing Director, Asia Shipping India, says, "While other segments of the logistics industry in India have seen robust growth in the past few years due to increasing volumes of import and export to support growth in the manufacturing sector in the country, there wasn't much stress on increasing capacities till about four years ago. With the introduction of schemes like encouragement to FDI in India, Make in India, Skill India, etc., the stress has shifted to enhancing the manufacturing capacities in the existing industries as well as setting up of new industrial units, mostly export-oriented. As against a year-on-year growth of around seven per cent in the past four to five years, India looks forward to a growth of around nine to 10 per cent in the project cargo segment in India."
"Another opportunity opens with the emerging number of aerospace projects – nano, micro and small satellites being transported to different parts of the world, with the unprecedented development of digitalisation, deeper utilisation of Internet of Things (IoT), which embraces more and more aspects of our daily life and leads to the increase of equipment like wafer-steppers needed worldwide," Vohra explains.
INTRICACIES INVOLVED
"Project cargo requires working backwards, with respect to stowage/voyage planning. Given that India has a coastline of 7,517 kms, 4.7 million kms of roadways and 64,600 kms of rail connectivity, India has the means and potential for the growth of this segment. However, the handling of indivisible goods needs careful attention and can be very risky due to the fragile nature, shape, and size of the cargo being handled. That being said, regardless of the type of bulk cargo, the transport route needs to be looked at beforehand. This is inclusive of time taken by a specific route, also keeping in mind the infrastructure. Further to that, the documents/permissions required need to be obtained after selection of the route, to save hassles later. Choosing and testing the equipment which would be used for the lifting of the cargo is essential and needs to be monitored carefully," elucidates Felder.
Jaideep Raha, Managing Director, Jetex Oceanair, says that the intricacies of moving project cargo include proper understanding of the nature of the cargo, economic and strategic planning of execution, total survey of the route and correct selection of land-side handling equipment and vendors, time management planning, as well as ensuring that the job is executed as per financial and operational planning, keeping delivery schedules as committed.
Elaborating on the requirements of such a movement, Tandon says, "The handling of project cargo involves careful advance planning, attention to detail, meticulous execution, identifying experienced handlers and supply chain specialists for handling of odd-sized project cargo, clearance of the same through customs, etc. The movement of heavy and odd-dimension cargo through busy city streets and highways, and handling of the cargo at the loading and unloading sites also requires specialised handling skills and equipment, including route surveys and equipment availability."
Katgara says that project cargo movement is complex and challenging. "Only an experienced project manager or a team with specific skill sets and core competencies can make project handling successful. From aggressive negotiation to closing post sales fixtures to using the right equipment for the right cargo, the key lies in the confidence of the team during execution. Dealing with a cargo of peculiar dimensions is always a challenge for the project forwarder. The loading and unloading of such cargo requires expert supervision," he shares.
"There is no standard formula or set operational process; it varies from project to project. It requires minute and advance planning as well as a seamless execution over land, water, or any mode of transport. Time being a key factor for every project, all stakeholders must work together as a team instead of following an owner/contractor approach," says Seetharaman.
"Project cargo logistics is a term that covers a wide range of activities, from the movement of unusually large or heavy loads to the management of time-critical ones. In basic terms, it can be defined as the coordination, planning, and management of particularly challenging logistics projects. The demand for heavy and oversized cargo is fast expanding on account of the Indian government's special thrust on developing infrastructure. The heavy items could include turbine, power components, and defense-related equipment. It could also be fragile and dangerous goods that need specialised handling," shares Vohra.
HOW TO LOWER COST AND MINIMISE RISK
Felder says that to cut down on the cost of handling, bulk cargo should be lodged directly from the ship side. "Multimodal logistics need to be implemented in the transportation of such goods, since roadways as a sole source for the transportation can lead to clutter. For this purpose, rail connectivity as well as inland waterways need to be developed further and implemented," he says.
Vohra says that project cargo is all about paying attention to detail. "Pre-planning is the crucial step that leads to efficient operations. Maintaining efficiency in such complex cargo operations eliminates risk and reduces cost. Successful project transportation practices require a smart planning process from the preliminary stages.
This can have direct effect on avoiding extra costs for transportation, duties, and taxes. It requires expertise to provide a detailed projection of cost," he explains.
"Timely conceptualisation of the entire process of the proposed movement of project cargo, proper and detailed financial negotiations with the various agencies involved in the critical operation, technical expertise and experience of the concerned agencies in handling that particular type of cargo, careful and proactive steps in examining all aspects of the physical handling and transportation of odd-dimension cargo (in terms of its size and weight), use of proper type and mode of transport, planning for proper and safe loading and unloading, etc., are basic requirements for planning economical and safe movement of project cargo," voices Tandon.
Vohra says that automation is key. "Regulating, automating, and optimising manual processes can reduce staff requirements and create a more proactive approach to ensuring customer satisfaction. With an automated, cost-effective transportation and logistics system, a company can implement major strategic changes to provide visibility, reduce costs, and increase customer service levels with the emergence of cloud-based technologies that have made this more affordable," he says.
According to Seetharaman, in large projects, it is more cost 'management' than cost 'reduction'. "Detailed planning, close coordination with all authorities, and complete transparency amongst stakeholders will minimise the exceptions. Ship detention, idling of commissioning engineers, as well as late mobilisation or wrong mobilisation of heavy handling equipment can cause major cost overruns and these can be minimised by detailed planning and execution," he explains.
Focusing on knowledge as the key factor in minimising risks associated with project cargo logistics, Katgara shares, "If the risks are understood, information can be obtained to ensure they are dealt with properly. Ensuring all SOPs are clearly documented and understood will help reduce risks. Due of the potential shipping risks like natural disasters, accidents, theft, etc., insurance is available to cover costs. Before choosing a transportation carrier, examine the insurance terms to ensure losses are covered. Choosing well-known and reputable carriers, especially in break-bulk trade, is also important and helps minimise risk like diversion of service, damaging cargo during load/unload, etc."
As per Vohra, working out a contingency plan is another factor that needs to be taken care of. Unexpected events can cause the initial transportation plan to not work out properly and during these scenarios, an alternative plan should be put in place to minimise an resolve issues.
"Moreover, there is always room for improvement in project cargo transportation. Tracking the results of finished project cargo moves and developing potential improvement areas can help future shipments to produce better outcomes," he continues.
THE ROAD AHEAD
A question that now arises is if the current capacity setup is even ready to meet the surge or not. Tandon says, "India is at present poised at the threshold of a major upsurge in industrial and manufacturing activity in the country. With the planning for major investments in infrastructure and manufacturing projects, the activity of project cargo movement is also increased by leaps and bounds. Since attention to availability of facilities for movement of project cargo had not been given in the past, availability of specialised transport, equipment, and experienced personnel for planning and handling of the odd-dimension cargo is not anywhere near what may be required in the future. We must provide for both equipment and personnel availability in the project cargo handling to meet the impending challenges."
In Seetharaman's opinion, the current capacity is sufficient to meet the demand. He says, "Large projects are often undertaken by the government in core industries as well as the infrastructure segment. This will be possible only if we have a stable government. It is expected that in the next five years, the core sector projects and infrastructure projects will receive a boost. The private sector often accounts only for smaller projects, and both these sectors are likely to improve."
By all indications and depending on the demand for projects, Felder says, "Mostly in emerging markets, this growth is set to continue at a rate of nine per cent CAGR."
"By way of introducing Bharatmala and Sagarmala projects, our government is now focusing on providing us with a world-class road network, integrated rail corridors, modern cargo facilities in ports and at airports, and creation of logistics parks and inland waterways. The Ministry of Road Transport and Highways is also fast-tracking projects under Mission 300," points Katgara.
"The project logistics of tomorrow will be leaner, faster and most importantly, self-orchestrated. This unprecedented change of pace will be driven by a few radical technologies that will be cautiously adopted by industry participants over the next five to 10 years," says Vohra.
Raha estimates that in the next few years there will be sea change in the Indian logistics industry with the new National Air Cargo Policy and National Logistics Policy in place, and most of the states having their own logistics policy. "These government policies will change the rules of the game to a great extent and there will be level playing field for all the logistics players. Hence, a substantial growth in this segment is inevitable. There will be a 30 per cent growth in project cargo logistics," he forecasts.
THE IMPORTANCE OF PACKAGING
Speaking of intricacies involved in the packaging of project shipment, Shailender Anand, Managing Director – India & Director – Dubai at Pronk Multiservice, says, "All projects start with a query. The way forward in projects largely depends upon the details collected during the initial stages of communication. Most of the time, the project prices are made considering a lot of assumptions. It's important that the engineering/technical team list out these assumptions to the end client before the execution of the project itself."
"The dimensions and weight of cargo play a very important role in any changes during final stages of execution and any changes in it will lead to a lot of unwanted challenges towards the end. A few centimetres less or more, especially while packing in a wooden or steel box, can lead to scrapping of the whole plan itself. Limitation of availability of handling equipment plays a very important factor in design of the packaging solution," he informs.
He says that challenges vary according to the mode of movement used for project cargo. "Challenges vary as every cargo is different and the handling will also be different. Based on the mode, the packaging design will be changed. For example, if the cargo is going to be on stools and transported as a RO-RO operation, we don't need to consider factors like involvement of crane, crushing forces while lifting, etc. So, mere heat shrinks with few reinforcements and provisions for securing the cargo will help. If the same cargo needs to be on the weather deck of the ship and will be loaded with a single crane, we will need to make a box with more support, taking into consideration wind force, crane handling (with or without spreader beams etc)," he says.
Speaking of best practices, Anand says, "We must look at cost effectiveness rather than reducing expenses by considering a complete cost sheet. For example, if you pack a machine of 100 tonnes in a wooden box, there are multiple methods to make the same. Most low-end packers just make a 'hood' over it (this will only be effective if the cargo has lifting points on it and the cargo is designed in such a way that the lifting points won't hinder with lifting wires). But, if you are making a box which can be lifted from outside with a lot of reinforcement, it acts as a part of the machine. This can take multiple handlings and will be suitable for any mode of transportation like road, rail, sea, air, etc."