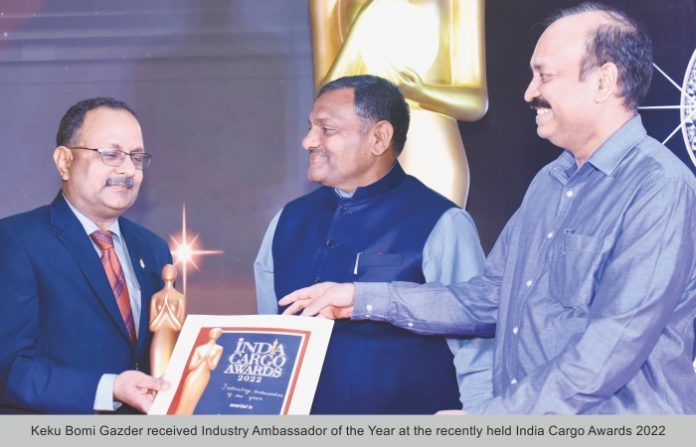 Keku Bomi Gazder, who has spent three decades in the air cargo industry, is optimistic about growth of air cargo in the coming years. The MD and CEO, Aviapro Logistic Services Pvt. Ltd. shares new airports are being developed as multimodal hubs and they will play a role in moving cargo from tier 2 and 3 cities.
Ritika Arora Bhola
What should be the Indian air cargo industry's primary goal now and what will be the efficient strategies to
move forward?
There are clear signs of uptake that air cargo business and traffic volumes, both for domestic and international cargo, are on the rise and will continue to do so. However, the ongoing Russia-Ukraine war is the main challenge the sector is facing currently. The crisis has impacted global supply chains. A contraction in the auto industry is another concern: it is dependent on the purchasing power of consumers, and advance planning will help overcome this.
With the ongoing developments at regional airports, how do you foresee the future of Indian domestic air cargo?
The Indian Government through its subsidiary, AAICLAS and private airports, will continue to invest in and develop more retail airports. With the growing cargo movement coming from tier 2 and 3 cities, this is going to be a major move forward. How these airports are going to develop, will depend on how much business is going to come from those cities. Regional airports are going to play a significant role in transporting cargo from the factories or their distribution points. New airports are being developed as multimodal hubs, with connectivity from air/ports/sea/road/rail. This will have a very big impact as we move forward.
How do you think the government's latest initiatives and infrastructure developments will give the impetus to logistics in the sector?
There is a clear sign that the move is towards having an inter-departmental collaboration with all sorts of projects being undertaken by the government. There are multiple departments that are working alongside it with
limited resources. These departments must work in close coordination with each other.
Logistics cost is one of the major concerns. What are the significant factors responsible for it?
What has been mentioned all along is that the logistics cost in India is very high. But if we look at it closely, the component, for example, of air freight within the overall logistics is not even 7 per cent, while we are projecting the entire logistics cost as between 12 and 14 per cent.
This number is not factually authentic. It is also to my understanding that the ministry of logistics is undertaking a separate study to come up with an actual number based on each of the sectors within the framework of overall logistics.
Apart from high logistics costs, which are the other important challenges?
Firstly, the air cargo industry is not growing at a speed at which others are growing. We are still not innovating with products, services or processes that need innovation and growth. So that is one pain point that needs to be addressed. This is going to take time. It is not easy because this is one of the most heavily regulated industries. And anytime there is a change in regulations, there is always a huge amount of debate. However, I am convinced that we are on the right track, and there will be results on the way forward.