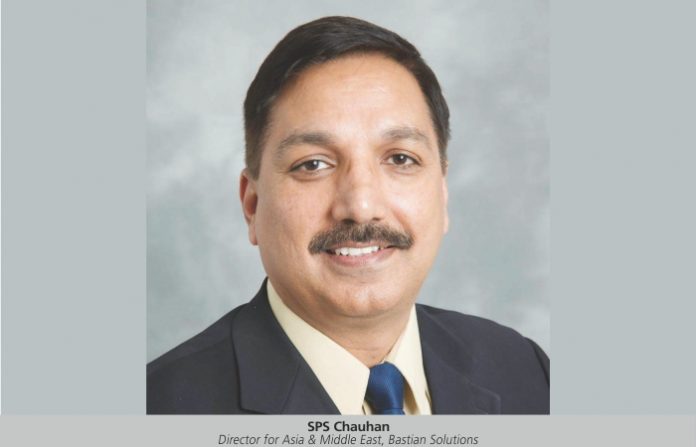 E-commerce which gained prominence during lockdown has forced organisations to modernise supply chain networks. Automation is okay, but how is the million-dollar question, says SPS Chauhan, Director for Asia & Middle East, Bastian Solutions.
What are the supply chain challenges faced by companies during the festive season?
The festive season has started, and companies are still adjusting to the pandemic-accelerated e-Commerce market. Consumers are moving towards online shopping. Retailers are adopting multi-channel distribution by balancing in-store and e-Commerce D2C fulfilment. You also have an existing peak season and new e-Commerce challenges, as well as traditional order fulfilment processes and international supply chain complexities with increasing freight charges.
Today's supply chain network must rise to match these new expectations. The shift to e-Commerce means changes in warehousing to accommodate increased single item picking, in contrast to bulk orders. Retail companies must prepare their warehouse operations to meet today's e-Commerce speeds which can be tested during the festive season. The ability to double a client's same-day and next-day delivery potential requires scalable and flexible automation. Some automation solutions can be installed while existing operations are running. When a client upgrades with scalable and flexible automation, they see throughput rates double. For brands that have recently added a D2C selling model, this comes with the necessity of an efficient last-mile delivery.
Has e-Commerce been a major contributor in the rising demand of goods?
When the country was under lockdown, the online platforms enabled organisations to continue functioning and gave consumers an alternative to in-store shopping. The same-day delivery model for grocery goods has also influenced the purchasing power of consumers in the e-Commerce market. The ability to discover desired products and the convenience of ordering goods with a single touch has changed buying behaviour, thus, increasing e-Commerce transactions.
How does automation help e-Commerce and retail companies' in speeding delivery?
We have witnessed same-day delivery and in-store pickup rising. Many of our customers have opted to use a goods to a person automated warehouse system. This is a high-density, bin storage system that leverages robots to store and move products to and from fulfilment workstations in warehouse and distribution centres. The bins are often stacked on top of each other in a grid-style format. This can increase storage space up to four times without needing to expand the system's footprint. It has also been shown to increase performance up to 10 times.
How does multimodal transportation help the supply chain sector in being faster and accurate?
Supply chains comprise factors that call attention when offering the best transportation solutions to reach customers. Multimodal transportation has become crucial to meet the increasing demand. It will help organisations achieve service levels and inventory accuracy rates between 85 and 90 per cent. Organisations looking to reach international customers will have a greater significance with multimodal transportation. Running 24×7, multimodal transportation shortens timelines and saves cost, especially during festive time. We use state-of-the-art optimisation software and a proven methodology to modernise the supply chain network, cut overall supply chain costs, improve customer service, perform contingency planning, and optimise production sourcing decisions among others.