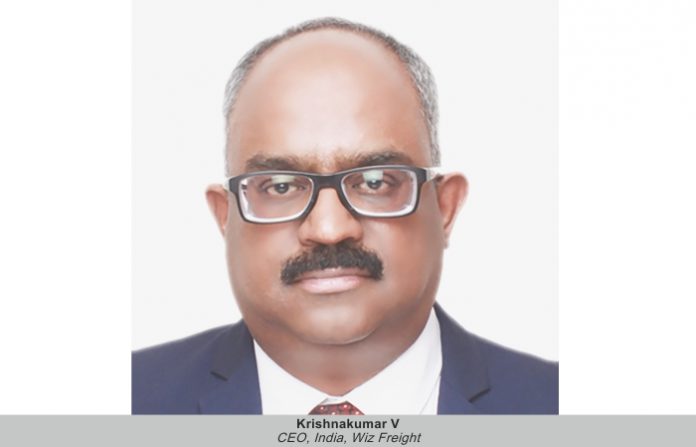 Krishnakumar V, CEO, India, Wiz Freight talks about plans to expand in Asia, Africa, Middle East. Push towards digital supply chain, cross-border logistics, demand for pharma, will propel India's logistics sector forward. Wiz is also opening new offices in Malaysia, Indonesia, Thailand, Saudi Arabia, the UAE, Qatar, and Vietnam.
Ritika Arora Bhola
How do you ensure tech-enabled solutions involved in the cross-border supply chain business?
Wiz Freight helps emerging market exporters and importers book and manage cross-border shipments on its tech platform with e-commerce-like convenience. Its AI-powered platform saves shippers countless hours by providing instant capacity discovery, dynamic pricing, optimized routing, door-to-door tracking, and automated document workflows. We work directly between carriers and customers, offering an execution model that offers visibility and cost saving to all the stakeholders. Wiz is now expanding into Asia, Africa and the Middle East, with new offices opening in Singapore, Malaysia, Indonesia, Thailand, Saudi Arabia, the UAE, Qatar, and Vietnam.
Please tell us about the investments done by your company in the technology and logistics sector?
Wiz Freight has raised a Series A funding of 275 crore in a mix of equity and debt led by Tiger Global with participation from Axilor Ventures, Foundamental, Arali Ventures, Alteria Capital and Stride Ventures. Wiz had closed a US$ 3.5 million seed round led by Axilor Ventures in August 2021. Arali Ventures and Foundamental had participated in the round along with angel investors, Ramakant Sharma, Co-Founder, LivSpace and Daniel Richner, Chairman of M+R Spedag Group, a Swiss-based logistics conglomerate. The company plans to accelerate its technology R&D and global expansion into Southeast Asia, the Middle East and Africa with the new investment. It will open new R&D centres in Bengaluru and Singapore by the end of 2022.
What do you see as the biggest growth drivers in 2022?
Among the promising growth opportunities in logistics in India is increased emphasis on last-mile deliveries, improved customer experience, cost reduction, and productivity. The push for digital, supply chain, and cross-border logistics, as well as rising demand for pharma, food chain, and perishable goods, will propel India's logistics sector forward.
How do you ensure efficient supply chain ops keeping in mind competitive pricing, safety and quality of services and products?
Our expertise and disruptive technology help our customers reduce manual work through automation, improve visibility, and generate savings. It enables them to easily book their shipments with competitive pricing, track their shipments with real-time status updates.
We have a dedicated in-house team who upgrade our digital infra. Our solution is all about visibility, transparency and decreasing human error, which includes instant pricing, route validation, choosing the right temperature-controlled packaging solutions, real-time monitoring of shipment via a Global Control Tower.