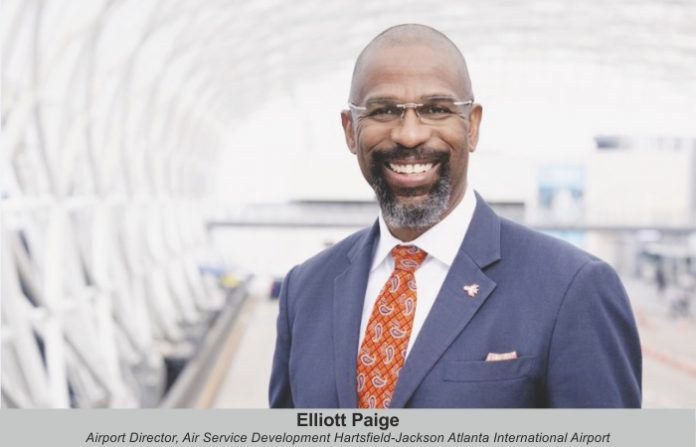 During ongoing pandemic, Hartsfield-Jackson Atlanta International Airport, United States operated 20 freighters which moved variety of cargo worldwide. Currently, the airport is in talks to start new trade corridors and flights to India, says Elliott Paige, Airport Director, Air Service Development in an exclusive interview.
Ritika Arora Bhola
Kindly tell us about the new freighter ops/routes introduced and capacity expansions at the airport. Which are the destinations covered, and what kind of cargo is moved from the airport?
We have over 20 freighters with regular services to Atlanta, plus significant belly cargo from our passenger carriers. The airport will continue to move goods related to high-value, high-yield verticals such as aerospace, automotive, pharma, perishables, and high technology equipment for a variety of end use. During March 2022, 189 flights flew to Europe, nine to Canada, 10 to Mexico and South America, 92 to Asia, 72 to the Middle East and 1,374 flights flew within the US.
Recently, with challenges in ocean freight, we are seeing diversions of chemicals used in manufacturing, textiles, and other products critical for manufacturing in the region. We expect these to be temporary and return to ocean freight as the freight charges and reliability regularize.
Please elaborate on state of the art digital and physical infrastructure available at the airport.
The airport has implemented a truck staging area to allow trucks to wait until they are called via SMSes to an available warehouse loading door. This process reduces truck congestion, pollution and clears the road to the warehouses. In 2019, we added the cargo community system facilitated by Kale Logistics. Participants in the system can reserve a loading door eliminating their wait time and reducing turnaround time (TAT) to less than 90 minutes. Our aim is to connect to other airports via virtual trade and data corridors to optimize efficiency between us and partner airports. We use our Sister Airport programme to find mutual interests and areas we wish to standardize in our cargo operations.
Where do the trade activities with India stand at this moment? What are the significant items transported to and from India?
There are 4,300 items at six-digit level HS-code exported from Atlanta to India by air. Since the HS comprises 5,300 article/product descriptions that appear as headings and subheadings, 81 per cent of the HS universe is traded between India and Atlanta airports. Products include pharma,  petro-products, technology equipment, vegetables, among others. In 2021, trade value was more than $1.3 billion and around 17.5 tonnes of cargo.
Do you look at India as a trade destination? Any plans for future trade with India?
I have participated in or coordinated several trade missions to India. We have a great relationship with the Indian Consulate General office in Atlanta. We hope to continue pushing for a new flights to India for passenger as well as cargo service. All the business models suggest that a flight to India would be successful.
What, according to you, will be the major growth drivers in the year 2022 and beyond?
We have witnessed retail merchandise, online orders approaching 100 per cent growth from 2019 onwards. Since 2020, the development of e-commerce has returned to expected growth of around 20 per cent annually. The drivers of the trade phenomenon are, of course, consumers. Due to a world where technology makes our gratification immediate, we, as the consumers, expect bespoke goods to move across borders within 72 hours. Technological innovations drive consumer expectations and the logistics sector to offer greater speed and transparency.
In the new normal, how important has it become for the airports to design cargo handling, storage, and supply chain process that is world-class, cost-effective and can meet ever-evolving customer requirements?
The new normal has brought some challenges to airport design regarding cargo. The stakeholders are working to reduce costs, while retaining or increasing efficiencies. This will happen through better design, constant training of workers, taking care of workers, using technology to enhance efficiency, and building redundancies in order to strengthen resiliency. Better design means understanding the flexibilities of the infrastructure between 30-40 years, that is, future-proofing the cargo facilities to advance as innovations move to the market and customer requirements advance.
Today, the expectation for quick and seamless timely delivery has forced the industry stakeholders to collaborate with the ecosystem partners. How challenging has it become for an airport to meet the expectations of the customers' (airlines/ forwarders)?
Believe it or not, air cargo operations are dealing with a variety of demand induced by ocean freight challenges, manufacturing shortages of inputs and labour supply. The impact of the ongoing pandemic on countries that are heavy producers of intermediary manufacturing goods, and the growing shortage of airport land space, as we deplete our greenfield space and struggle to coordinate with brownfield space. The results are, of course, bottlenecks. Fortunately, innovations such as truck parking lots, cargo community systems, and maintaining a productive relationship with the stakeholders will help alleviate the bottlenecks and smoothen trade.
Please share with us your major expansion plans or projects in the pipeline?
We are inviting the developers to bid on working with us to build a Modern Air Cargo Facility (MACF) with all the state of the art material handling systems such as mail sort, perishable and pharmaceutical technology innovations, and animal handling. We have airport companies such as the DHL that are setting the trend with their automated sorting centre to be fully operational by the last quarter of the current year.
Collaboration among the industry stakeholders is significant. Do you think the stakeholders are readily collaborating and uniting for growth?
It depends on whether the airports actively nurture relationships with the private sector, development partners, logistics companies, federal agencies such as customs and border security authorities, and educational institutions. Those airports put the resources and time behind as such relationships prosper, and allow them to unite for growth. They also recognise that they are on the same team. This growth will certainly strengthen the sectors and enhance their limits.