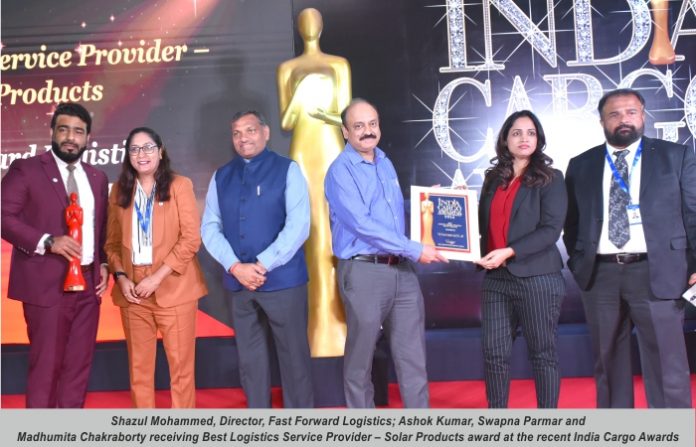 Logistics was one of hardest hit sectors during COVID-19. After combatting lockdowns, capacity crunch, shortage of workforce, supply chain crisis, the logistics firms continued with movement of essentials. In the new normal, the industry, with efficient strategies in place, is gearing up for growth, says Shazul Mohammed, Director, Fast Forward Logistics.
Ritika Arora Bhola
Please throw light on the strategies adopted by your company to move ahead?
Throughout the pandemic, we have focussed towards increasing our interest in niche markets. The company's strength is in its offices, spread across India, China, UAE and Turkey. Capturing these markets during the ongoing pandemic was an analytical move that helped us to double our volumes year-on-year. Likewise, we see huge growth prospects in these markets.
What will be the major growth drivers in 2022 and beyond?
Global container shipping and airfreight forwarding is affected by many factors occurring across borders, and the impact will be on the freight rate which is major cost in the international logistics sector. It is advantageous as well as challenging. However, we have seen similar situations during the ongoing pandemic. We have been taking an advantage and we bet it is going to improve our finances and profits.
What are the areas which need immediate attention?
Adapting new emerging technology will be a challenge and companies must focus on moving with this trend. As technology advances, those firms which do not adapt will lose opportunities to diversify their businesses and make their investments robust.
In the new normal, how important has it become for the companies to design the supply chains of the future, which are cost-effective, resilient and are able to meet ever evolving customer requirements?
We believe the companies are looking for one-window solution for all their SCM solutions. As due to sophisticated procedures and policies, and time constraints, the one-window solution helps the customers.
How challenging has it become for LSPs to meet the customers' expectations?
The logistics industry is dependent on people and operations. Managing these two factors is something which we strive for, and we believe if the duo can be managed effectively, customer satisfaction can be achieved.
What makes your company better than its competitors?  What is your USP?
Our strength is in our global presence. Our memberships and certifications add to our strength and we have been developing huge volumes through them and meeting international commitments of the customers.
Please elaborate on the global strategies you are planning to infuse into the company's operations?
Real-time tracking of the consignment, dynamic pricing, transparent rate sheet for SCM processes, training and developing talent accordingly.
Please tell us about your expansion plans?
We are tapping new unexplored, niche markets. In the fy 2013-15, we had forwarders peep into the African markets using our network. Now, we are in Turkey, planning to set up markets in Qatar, parts of EU and the Americas. This is a strategic advantage and we are betting that in these trade lanes, we can manage to simply multiple our volumes yoy.