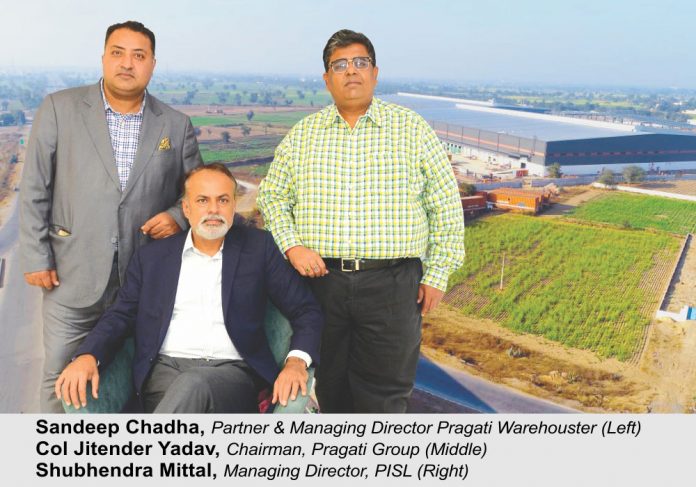 The Indian warehousing industry is being transformed – the new normal entails incorporating the latest developments. With the onslaught of technology and a favourable tax regime, opportunities are there to scale the operations on a multi-location basis, says Sandeep Chadha, Partner & Managing Director of Pragati Warehouster.
Kalpana Lohumi
Q What solutions you are offering in the logistics and warehousing space?
The changing industrial milieu needs an imperative alteration in perspective, offering a new vision in logistics and warehousing needs. This is all the more important since we are fast entering the circular economy and IR 4.
Pragati is an India-focused warehouse developer cum asset manager headquartered in Gurgaon. With a focus on building, developing and managing industrial and warehousing assets on a pan-India basis, the company is coming from a pedigree wherein it has delivered some marquee warehousing assets in the past and is now poised to exploit its experience in giving a new direction to the vertical in particular and to the industry at large. We are here to serve its clients across the sectors viz. e-commerce, manufacturing, FMCG & retail. It intends to go full-scale with warehousing assets already under execution in NCR, Bangalore, Mumbai, Ludhiana, Jaipur and Rajpura.
With its three-pronged strength in construction, leasing and asset management, Pragati aims to establish itself as the preferred partner of choice when it comes to delivering superior Grade-A warehousing in a Built to Suit framework. Its focus primarily, is to add value to shareholders in a way that maximises the returns on the deployed capital. It has a track record of ensuring good returns to stakeholders while building a portfolio of marquee projects across the locations. Pragati is poised to fully capitalise the opportunity on offer and add value at each step in its stride to become the foremost player in delivering Built to Suit premises for its various clients.
The solutions that we offer to our customers are futuristic and geared to changed needs. We do not follow the beaten track, but incorporate the latest technological developments as far as possible.
Q According to you what is the new normal in the logistics and warehousing space?
Indian warehousing is going through a transformation. With close to 90 per cent of warehousing falling in unorganised category, there are opportunities galore. There is an unprecedented demand for superior Grade-A warehouses from across the industries led by e-commerce. With the onslaught of technology, and favourable tax regime, opportunities are there to scale the operations on a multi-location basis and provide state-of-the-art and globally compliant warehouses.
The new normal essentially is incorporating the latest developments. For example, warehouse labour shortages have long been a thorn in global supply chains, but a new web application developed for innovative organisations could soon change that. A host of issues may force warehouse operations to slow down or grind to a halt, but perhaps the most disruptive of all is dealing with a shortage of warehouse employees.
In times of higher demand, this creates logjams that are tough to break, much less recover from. For businesses, that means both time and resources are wasted. With their first-hand insights into the intricacies of warehousing logistics, we plan a four-member team set out to put an end to this age-old industry problem. Our warehouse operations personnel can easily facilitate the sharing of manpower among the company's facilities where there are surges in demand.
Today logistics cost in India accounts for 13-14 per cent of the Gross Domestic Product (GDP) which is nearly double (7-9 per cent) the logistics cost to GDP ratio in developed countries such as the US, Hong Kong and France. So, there is an opportunity for incumbents to play a decisive role in bringing down the cost with the judicious use of favourable policies and state-of-the-art technology.
The government's thrust to the sector such as giving infrastructure status, the 'Make in India' programme, 'Vocal for Local', development of multimodal transport networks and initiatives to set up industrial corridors like Delhi Mumbai Industrial Corridor (DMIC), Delhi Kolkata Industrial Corridor and logistics parks have propelled the cause. The introduction to REITs in India has galvanised the sector and the same is poised for a growth momentum. We are now in the midst of a consolidation phase with a lot of tech-enabled practices in fray to improve the overall throughput.
Q What are the main challenges posed by the pandemic?
It's not about challenges per se. In fact, every challenge is an opportunity in itself. Every business has to be agile and adaptive to counter the downside of the changing business landscape. At Pragati, we are well prepared to take on the ensuing challenges in our stride. Of late, the changing trends are in fact a step towards enhanced efficiency and overall throughput. This augurs well for all the incumbents involved. With increased consolidation the cost is being significantly cut down. The pandemic is subsiding and the economy is on an uptick. Remote work is enhancing the potential of India's Tier-2 locations. We have already created a footprint by taking and consolidating lands in Tier-2 locations such as Ludhiana, Jaipur and Patna where we are helping their clients scale and build Grade-A developments.
The COVID-19 pandemic has led laboratory supply companies to explore multimodal logistics solutions and has created a new impetus for digital tracking. And, we plan to adopt them as far as feasible.
Q What change is expected to be seen in the warehousing space?
I foresee a strong resurgence in the Indian warehousing industry in this year. While the key metros of Delhi/NCR, Mumbai, Bangalore, Chennai, Hyderabad, Pune, Kolkata and Ahmedabad will keep holding the sway, the Tier-2 & Tier-3 will see a lot of action as well. Remote work will enhance the potential of India's Tier-2 & Tier-3 cities. The Indian warehousing sector came unscathed even during the pandemic and will grow from strength to strength from here on.
I believe the push towards 'Vocal for Local' will particularly catalyse the manufacturing sector. And a growth in manufacturing is bound to propel the demand for quality Grade-A warehouses as well. Digital support and infrastructure will enhance transparency and streamline the entire sector. And with stakeholders backing out of China, India has every chance to be the next global manufacturing hub. In the long run, if 'Vocal for Local' gets materialised, sky is the limit for growth in Indian manufacturing as India is one of the world's biggest markets.
I believe the push for greater efficiency and smooth streamlining will always be there. And it will only stress upon the need for further technological interventions. Be it Robotic Automation, AI, IoT or Blockchain; the relevant tools will be adopted. Smart warehouses will only enhance the overall proposition while still saving the costs and augmenting the overall throughput. So I see a gradual shift towards the smart warehouses going forward.
Digitalisation has become a priority, and several initiatives are currently being thought of and shall be implemented. These are related to tracking, packing list, or box labelling. Many of these initiatives have led to lower cost and faster processing.
We at some stage would incorporate web tracking functionalities and explore the potential use of dedicated chips. Of course, enhanced digitalisation also means enhanced cybersecurity protocols. Cybersecurity is a high priority in Pragati's overall digitalisation process.
Q What makes you different from competition?
Our aim is to help India in the growth story by providing a gamut of services to developers right from land acquisition to pre-lease to post-handover property management, the company does it all. Also, we help our set of investors build a portfolio of sustainable and long-term rent yielding warehousing and industrial assets. I believe offering varied services under one roof and repeatedly exceeding expectations has been the biggest USP of Pragati. While for the past 10 years we developed the strength of having consolidated more than 700 acres but at the same time we have well positioned our EPC arm (Pragati Infra Solutions) to comfortably develop 4 million sq ft on a yearly basis.
We plan to continue to be leaders in logistics and warehousing industry by employing innovation both in concept and practice, and it is our commitment to enable our customers with such innovative concepts to have optimum utilisation of our services and facilities. We strive to incorporate innovation and technological progress to build warehouses that are going to be outstanding examples of human endeavour.
Q What is your outlook towards 2021 and onwards?
Our sights are focussed both on immediate needs and integrating the same with futuristic trends. Maybe, we shall incorporate the service of drones. Quantum computing could transform the logistics industry within the next decade. Can we afford to use quantum computing? The exciting possibilities have sent technology giants into a frenzy as they ramp up investments to build commercial quantum computers capable of solving complex problems. In warehousing and logistics industry, quantum computing is also earmarked as a key trend within the next five to 10 years. In 2021, we are gearing up for utilising all progressive concepts and that is starting this year.
Q What is your present network? What are your expansion plans?
Pragati was conceptualised to bridge the gap within the Indian warehousing and logistics arena. The intent was to provide an end-to-end platform for this sunrise sector. With booming e-commerce, and ever-expanding traditional retail there emerged a demand for Built to Suit Grade A warehouses. We have a pan-India presence with projects spread across the geographies.
There was a need-gap, there were opportunities on offer and there was a singular intent to serve over the long-haul. Things got together and Pragati came into being in 2009. We intend to be the preferred partner for growth for our stakeholders. The kind of the impact we have been able to create in this short span boosts our morale.
Promising Present: We have our plate full presently. With projects spanning across the key logistics hubs of India, we have been able to garner the trust of our stakeholders. Our multi-location facilities allow our clients to expand with us across the geographies. The scale and efficiency that we offer are unprecedented and set us apart. Our superior development management with globally compliant specifications wins us the confidence of our clients across the sectors. The state-of-art embedded technology in our warehouses help us enhance the overall throughput. Gradually and steadily we are able to help the client improve his overall supply chain management with our futuristic properties.
Farsighted Future: Going forward we intend to go full-on. The covetous portfolio that we have been able to cobble together is beginning to bring to our fold some stellar institutional investors like Morgan Stanley, Logos etc. The pace at which we are growing, is a benchmark for the industry and is helping us push the envelope even further. While on one hand we are aggregating the land banks across Tier-1 and Tier-2 cities, we are setting in motion the construction process after following the due approvals. Subsequently, we intend to manage these assets keeping in tow our investors' interest.