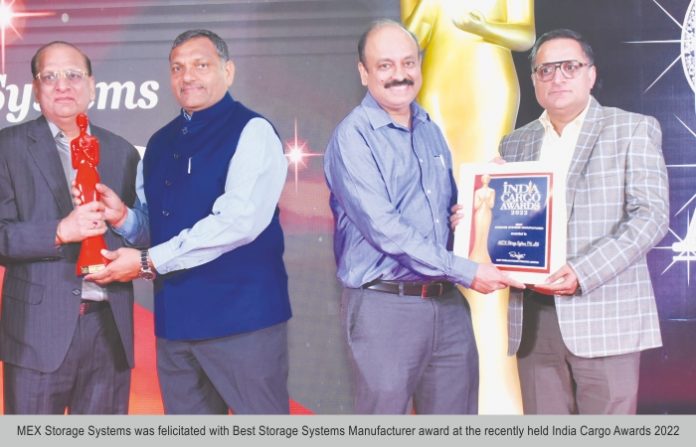 Balwinder Kumar, Managing Director, MEX Storage Systems in an interview with CARGOTALK emphasizes on improving industry's machinery, raw materials, and infrastructure by investing adopting 100 per cent digitalisation. Govt initiatives such as Gati Shakti, Make in India, are needed to enable the success of infrastructural development.
Bryan Anthony Thomas
How do latest government initiatives such as Gati Shakti, Make in India, and India Investment Grid help in better opportunities and projections?
Locally created products, I believe, would be useful to the company because they reduce logistics costs, strengthen supply chains, and assist small businesses to develop. It will raise demand for their products and encourage them to improve product quality to maintain their position in the area. It would be fantastic for assuring the country's growth in addition to being profitable for enterprises. Government efforts will attract investments from all around the world, allowing the country's infrastructure to grow even more.
Could you tell us about state-level initiatives? What are the opportunities for quality infrastructure?
Infrastructure quality can be improved by harnessing the power of innovation in the infrastructure, creating the market for infrastructure projects and services Mobilizing private funding and introducing new technologies.
Please elaborate about some attractive investment opportunities?
Healthcare, personal hygiene equipment, online marketing, e-commerce, logistics, transportation, and quality infrastructure are all areas where infrastructure is needed. These are only a few of the many industries in which I believe there is room for expansion, especially following the COVID-19.
What are the future investment needs and new funding sources are you looking forward to?
I have been trying to improve industry's machinery, raw materials, and infrastructure, and I would like to invest in these things to help my products, their quality, and my business develop. The demand for improved storage has increased, and as an Industrial Rack Manufacturer, I believe investors and entrepreneurs would be willing to fund such a rising company.
Could you tell us the policies, regulatory and instructional gaps, issues, and challenges faced?
The main obstacle is lack of modernization or automation, and I am planning to integrate cutting-edge technology to ensure seamless production. I am also looking forward to improved logistics that will allow for more timely transportation and streamlined corporate processes.
What are the risks of infrastructural projects?
Concept, technical glitches, construction risks, operation risks, revenue risks, financial/ expenditure risks, technology and design changes risks and poor management. Talking about the cost, it depends on different factors such as the land, type of infrastructure, the technology used and more. However, the right investment in infrastructure can lead to better results or returns in the future.
Can you tell us about the investments in mobility-oriented development and modal integration?
Mobility is essential for a smooth journey in and out, and transportation infrastructure has become a big issue for them in recent years. As a result, it is critical to improve existing transportation mobility and modal integration, which is required for smooth product movement inside or across the country.