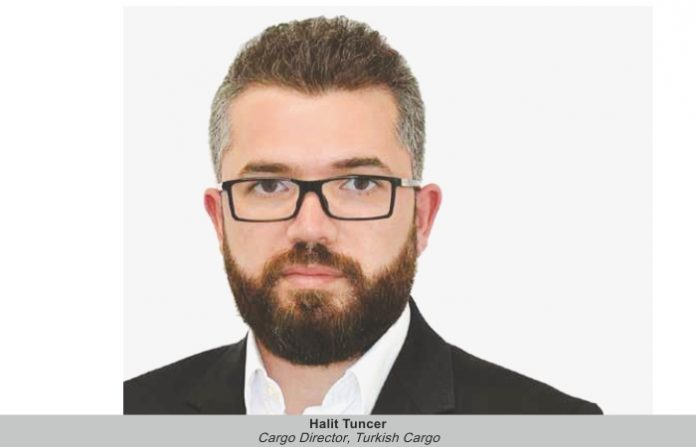 With support to global trade with its innovative processes in terms of transportation, using latest tech for developing sectors, and creating a large logistics ecosystem, Turkish Cargo has come a long way, says Halit Tuncer, Cargo Director.
Ritika Arora Bhola
Where do the trade activities with India stand now? How do you think of India as an investment destination?
The pandemic has accelerated opportunities for innovation and digitalisation of Turkish Cargo. We gained more market share during 2020-2021 COVID-19 did not stop us from performing well. We not only continued, but also expanded our operations to six cities such as Delhi, Mumbai, Hyderabad, Ahmedabad, Chennai, and Bengaluru. We want to introduce more capacity here, keeping our position of three in terms of cargo tonnage. We received Fastest Growing Cargo Airline of the Year Award during the ongoing pandemic. We want to continue to grow and expand in the Indian market.  India is a key market for us.
Please elaborate on the Indian cities you have covered till now?
At present, we operate three flights to Bengaluru, four to Chennai, five to Delhi, three to Hyderabad, four to Mumbai, and two to Ahmedabad and more than 20 freighters frequencies every week. We are focusing on deepening the frequency to cities that we presently serve in India. We have plans to bring more stations under our ambit soon. Hopefully by the end of this year or next year, we will have more freighters joining our fleet.
Share with us about freighters launched, destinations covered and efficient strategies to move towards growth?
In terms of passenger carrying capacity, we are back in Mumbai and Delhi, one frequency every day i.e. 14 frequencies every week. We want to improve that. And we ordered new white body passenger aircraft, more than 60 of them, and they will be delivered within a period of three to four years. In North America, we just opened a new lane, Seattle last week and Dallas was started a few months ago. Initially, we operated weeklyflight now operate daily flights. We changed Los Angeles and San Francisco from daily to double daily. Miami is double daily now. So North America is a focal point as of now.
Please share with us digital and physical infra for storage, handling, and transportation of all types of cargo at Smartist?
Smartist is one of the world's best and advanced cargo facility. Most of the warehousing equipment are AI-based, temperature-controlled and electrical. For the equipment, we try to avoid fuel and use electric powered vehicles.