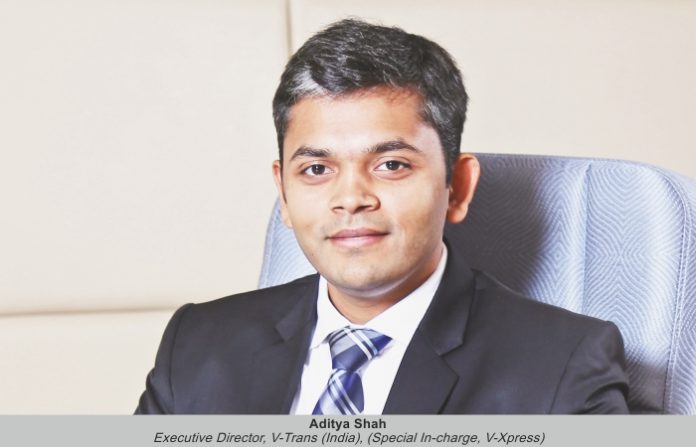 Aditya Shah, Executive Director, V-Trans (India) (Special In-charge, V-Xpress) is optimistic about logistics industry's future growth. The veteran thanks the government bodies for creating a comprehensive digital and physical infrastructure by investing in management, planning and resources.
Bryan Anthony Thomas
How can the government's initiatives give an impetus to road and transport infrastructure?
The logistic sector is driven by numerous variables in 2022 and beyond, including India's emphasis on resilience-building, the growth of e-commerce, the acceleration of the digital way of life and business, faster technology adoption, green logistics, and many more. The sector is poised for growth following government's emphasis on EoDB and initiatives such as Gati Shakti, Bharatmala, Sagarmala, MMLP, and DFCs, with an emphasis on PPP models. A potential opportunity for India Inc. is the Indian Railways' Gati Shakti multimodal cargo terminals. The government has developed a policy to encourage private investment in IR's cargo facilities.
This regulation allows both current and newly proposed terminals. To increase its part of the overall transport from its current level of 30 per cent to 45 per cent as envisioned in the National Rail Plan, the strategy seeks to increase the number of cargo terminals in Indian Railways. In terms of length constructed daily (on average between 22 and 26 km per day) and annually, road construction is at its highest level (an average between 11,000 and 13,000 km per year).
Tell us about technological breakthroughs in the road freight sector that have had a significant impact on the industry?
With the help of technology, we can improve delivery procedures; it enables us to provide delivery services at a lower cost and increases client retention. In this respect, technology is crucial to logistics since it allows us to optimize a variety of activities, including transportation, storage, and inventory management. From an Indian perspective, the following are some important concepts that seem promising:
Digital Twins: It gives businesses the ability to forecast market volatility and the possibility of future disruption, identify current or potential supply chain bottlenecks, and improve logistics planning. In alternative fuel/EVs, to reach the objective of a mainly carbon-free, more effective, and sustainable transportation system, feasible, sustainable, and energy-efficient logistics must be accorded priority.
Digital Freight Matching: For creating a fictitious market place for shippers and transporters of road freight, the field has not yet been fully investigated, even if there have been some failed attempts in the country in this fi eld.
How do you foresee the future of road freight in India?
The industry has a promising future and is vital to the economy as it supports manufacturing by ensuring smooth operations of the entire supply chain. A comprehensive infrastructure is being built thanks to investments and pressure from the regulatory environment and the government. The industry's future will be shaped by two important factors—technology and ESG. The sector is certain to expand as the industry strives to become more structured, effective, and talent-attractive.
What are the major impediments in this sector?
There are none in the traditional sense except from the talent gap. On the other hand, the industry is experiencing more favourable developments. The only thing left is for the logistics industry to be given industry status, which would lead to more changes and help with the talent shortage that the entire sector is experiencing.