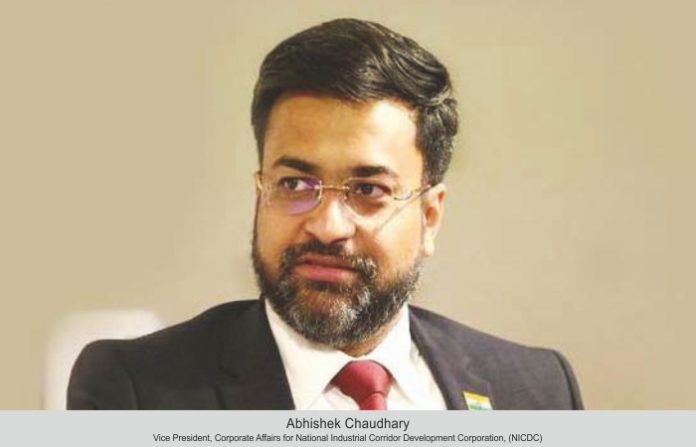 Unified Logistics Interface Platform (ULIP) has been launched as an inclusive part of National Logistics Policy (NLP) by Prime Minister Narendra Modi to digitally assist and integrate India's logistics landscape, says Abhishek Chaudhary, Vice President, Corporate Affairs, National Industrial Corridor Development Corporation (NICDC).
Ritika Arora Bhola
Explain about ULIP, developed to integrate all modes of transportation—air, road, rail, and sea through one interface and facilitate real-time information and improve global competitiveness
ULIP was conceived as a technology common for the purpose of digitizing the logistics landscape in the country. The objective was to digitally assist in 'Just in Time inventory management,' to reduce logistics cost and improve efficiencies. Under the platform, we have integrated close to 30 systems of seven ministries, developed over 100 APIs covering more than 1,600 fields. ULIP acts as a request-response way system wherein for end users there is one set of systems, and at the back end, it fetches information from multiple systems. So far, the response
received from the industry for ULIP has been overwhelming. Industry stakeholders are appreciating the government's effort.
Now that the ULIP has been launched, how are you planning to take it forward? What are strategies have you adopted for its promotion?
Before it was officially launched, we had initiated testing ULIP APIs under live environment. To ensure efficient serviceability and tractability of ULIP, we have tested over two crore transactions by introducing APIs to various user groups and companies. Currently, we have executed non-disclosure agreements with few private sector firms and start-ups.  We are in an advanced stage of discussion and expect a couple of more customers soon. Now, our objective is to get ULIP adopted by the logistics trade. We are focusing on achieving the maximum amount of rollout for ULIP. I feel, since logistics is pre-dominantly an unorganised sector, there is a need to educate the stakeholders about the benefits of advanced and tech-friendly systems. We will focus on creating awareness about ULIP and getting maximum stakeholders on board in the next two to three months.
What are the benefits that ULIP offers apart from digitally assisting in 'Just in Time' inventory management, reducing logistics costs, and eliminating paperwork?
Earlier for tracking and tracing of shipments, verification, and approvals, the stakeholders had to login into various individual platforms. By utilizing ULIP, they will not only track and trace their shipments, but also authenticate and verify the credentials of different service providers at one platform.  This platform is designed to integrate various systems to enhance efficiency, robustness, and transparency. This user-friendly platform saves time and cost of the end users.
The NLP has stressed on the importance of data driven decisions and introduced ULIP as a game changer for logistics in the coming years. How do you think it is going to bring a revolution in the logistics sector?
The mandate of developing ULIP was given to NICDC as we were already working on Logistic Databank Project (LDB) since July 2016. At present, LDB covers 17 ports (27 terminals), 60 toll plazas, 200 CFS' and ICDs, nine Special Economic Zones, three Integrated Check Posts, major cargo rail routes and DFCs. LDB was conceptualised to resolve issues/problems pertaining to tracking and tracing of exim containers in the country. We started our services at JNPT Port and expanded to Mundra Port and then to all the container handling ports of the country.
LDB platform deploys RFID technology for near to real-time tracking with coverage across ports, ICD/CFS, toll plazas, railway stations, yards, international borders, and industrial zones. It provides electronic data exchange service through integrations with PCS, FOIS (Railways) and TOS (Ports). It also offers analytical insights to find best and worst performing ports, CFS' and Inland Container Depots. LDB also contributes to enhancing Logistics Performance Index (LPI) and EoDB. Every container is affixed with RFID tag the moment it exits the port. We had received the mandate to develop ULIP in January 2021 and it took us nearly a year to integrate all the processes.
How do you identify the 'pain points', while providing reliable business solutions to the stakeholders?
Initially, there were procedural and technical difficulties involved such as development of APIs, getting various ministries on board, understanding the technical requirements, understanding, and analysing our technical requirements, issues related to data security, privacy, and safety norms. It was our responsibility to make sure any personal identified information should not get disclosed. Once ULIP was ready, we did few initial conducts with the industry stakeholders to identify the problem areas, their needs, and requirements. The trials were conducted in 2022 to check it in the live environment.
How streamlined are your efforts towards customizing tech-enabled solutions, helping clients and their supply chains to evolve alongside integrated logistics?
We will ramp up the backend infrastructure depending on the response and feedback from the users. Our objective is to provide the best-in-class services and 100 per cent accuracy to the end users so that they can leverage the data for future use.
How can ULIP benefit the air cargo sector? What are the expectations of private stakeholders?
Under the air cargo category, ULIP is integrated with three different technology systems such as Air Cargo Community System, ACMES and AAICLASS, respectively. We have received tremendous response from the industry stakeholders and government. The industry players are coming forward with different use cases for which they seek our assistance in providing solutions though this platform. I would urge the stakeholders to utilize ULIP as a platform to improve the logistic efficiency in the country and to make India globally competitive.
How do you think this ambitious National Logistics Policy will take the Indian logistics industry to a different level?
The NLP has been launched under the umbrella of PM GatiShakti. As the Honourable PM had said, "Any policy document, which comes from the government lays down the key objectives that a country wants to achieve. NLP is going to play a major role in bringing logistical efficiencies. But, at the same time, there has to be a joint effort between the government and the private sector." The private sector should come forward and start using ULIP only then its real benefits can be trapped.