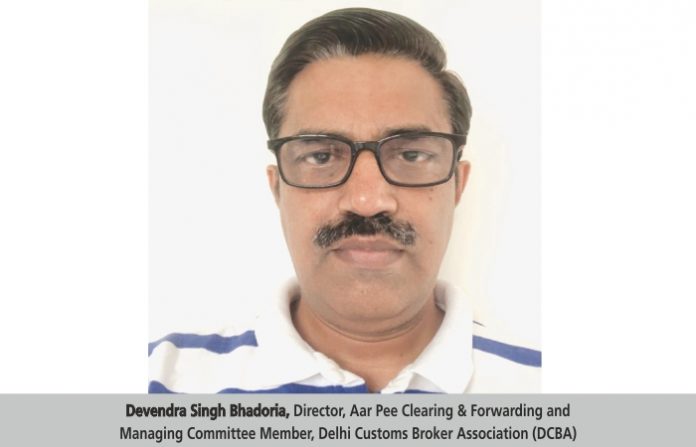 The Central Board of Indirect Taxes and Customs (CBIC) has issued guidelines to smoothen the process of faceless assessment of cargo to avoid delays. Devendra Singh Bhadoria, Director, Aar Pee Clearing & Forwarding and Managing Committee Member, Delhi Customs Broker Association (DCBA) talks about the issues involved.
Kalpana Lohumi
What needs to be done to achieve the real objective of the project?
Despite the project being a noble idea, it is evident from the facts so far that the purpose of faceless assessment is apparently defeated. Physical interaction is still persisting owing to unnecessary and frequent queries raised by some Faceless Assessment Officers at different ports, resulting in delays in cargo clearance. There are many instances to show malafide intention of those officers.
It is also found that the TSK (Turant Suvidha Kendra) which was aimed at fast redressal of issues pertaining to faceless assessment has been a one-way traffic only, with no time-bound feedback/solutions from the concerned TSK officers.
The trade also requires well-defined and uniform policy/guidelines across the ports/ICDs/airport, so that there is no ambiguity and malpractices by utilising the lacuna. There should be a proper monitoring system from the higher authority or Customs Board to reduce unnecessary queries (which are huge in number) and harassment to the trade. To achieve it, the NAC (National Assessment Centre) and Vigilance Department will have to play a more effective role in each port/ICD/airport through war footing measures to check the corrupt persons. Customs officers at the execution level need to be sensitised about the great objective of the Government of India as regards to fast clearance of cargo through faceless assessment. At the same time we need to sensitise the trade people against indulging in wrong practices. They should also be well-versed with changing policies, rules & regulations, etc. to minimise errors. Increase of RMS facilitated BEs to maximum number can also be a viable measure to expedite the clearance procedure.
What are the issues related to customs clearance in India?
There should be fast as well as minimum examination of goods by utilising proper equipment and technology. Both soft and hard infrastructure need to be installed in all customs locations so that post assessment cargo clearance time can be reduced drastically.
The intelligence level of respective customs officers needs to be very high while examining the goods. They should have extensive knowledge regarding WCO and WTO guidelines. Commodity and supplying countries including safety aspects and proper data analysis should be the major parameters in this regard. In this way other issues related to cargo clearance time or dwell time can be reduced significantly
What is your take on the containers' shortage crisis?
The current shortage of containers is mainly man-made and manipulated by some countries. While the Government of India was busy containing the spread of COVID-19 pandemic by adopting various measures, supply of empty containers was hugely impacted by unfair activities of some countries, especially China. China, in fact, has procured/blocked more than 80 per cent empty containers during the pandemic period. Unfortunately, our government did not have any contingency plans in view of the possible shortage of containers due to imbalance of trade or huge drop in imports. There should have been a regulatory mechanism in place to compel the shipping line bringing back empty containers after exports from India.
On the contrary, on one hand shipping lines have reduced capacity and on the other hand increased freight charges three times during the pandemic period, resulting in tremendous pressure on the ex-im trade of India. They fulfilled their revenue target by creating this artificial crisis. I think, it is high time for Government of India to regulate the shipping lines for the greater interest of the country's foreign trade and economy. We must protect ourselves through our own law adhering to WTO guidelines. At the same time, we need to promote Indian private shipping lines for the national interest.
What about the possibility of manufacturing containers in India?
Though it looks like a positive initiative, at this moment it is not viable considering huge cost factor is involved. It would be an additional burden on the PSU Concor, which ultimately will have to bear the cost of manufacturing/procuring the containers. Moreover, there is no guarantee that the empty containers would not be blocked by some other countries because of the nexus between shipping lines and a foreign country. Accordingly, container manufacturing at the cost of Concor would be counter-productive. It would be a misleading step under 'Make in India' or 'Atmanirbhar Bharat' initiatives.
Where do you see the Indian air cargo industry five years down the line?
It will be too early to assess the scenario. There are so many factors involved behind the increase of COVID-19 vaccine exports from India.
Apart from manufacturing capacity of Indian companies to fulfil the demand of domestic market as well as international markets and requirement of appropriate logistics infrastructure to handle movement of the vaccines, the bilateral/political relationships between India and vaccines importing countries will also have to be taken into consideration. At present the said prerequisites are not very promising.