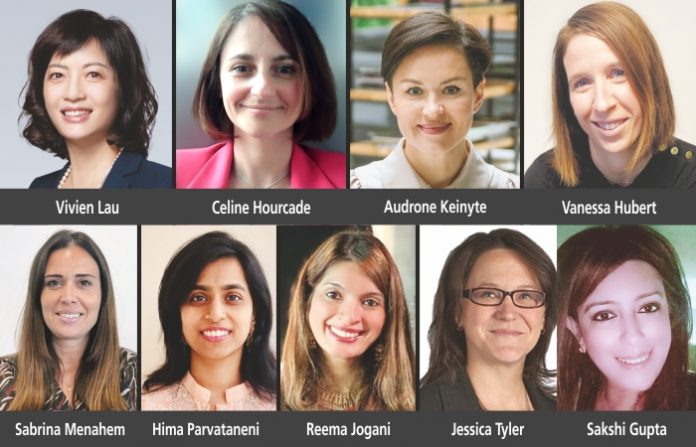 Till some years ago, women leaders were not seen in logistics and air cargo industries. But now, smart and passionate women are well prepared to take the industries to new heights, with their core strategies and growth plans in place.
Ritika Arora Bhola
Traditionally, logistics industry was a male-dominated sector, and for a long time, women were not allowed to enter the 'blue-collared' profession. But not anymore.
The international logistics and air cargo industries are now completely in 'awe' of the outstanding contribution made by the women leaders in the so-called male-dominated sectors. The industries have witnessed an increase in the number of women appointed at senior positions.
With constant innovation across the international supply and demand chain, the logistics sector is no longer about lifting and shifting consignments. The logistics industry today offers a plethora of opportunities in varied domains such as technology, e-commerce, warehousing, shipping, and multimodal operations, and research.
As part of this feature, CARGOTALK talked to smart, erudite, and passionate women business leaders, who
are determined to take the international logistics with their strategies and growth plans in place and air cargo industries to the next level and also bring gender balance at their places of work.
'I feel proud to have proved myself in logistics'
Vivien Lau, Chief Executive, Jardine Aviation Services Group, Hong Kong International Airport
Proving my worth
Having spent around 15 years in the aviation industry, with as many as 10 years of specialization in the logistics sector, I do not think gender bias will put me to any disadvantage. I was appointed as the HACTL Executive Director and was appointed as the HACIS Managing Director between 2012 and 2021, focusing on the air cargo, cross-border road feeder services and e-commerce logistics. In November 2021, I joined as the Chief Executive of JASG. In my current role, I am responsible for a full range of ground handling services, including passenger, baggage, ramp, cargo, and ground support equipment (GSE) services. I feel proud that I have proved myself and will continue to do so.
Challenges & Opportunities
When I joined the Jardine Aviation Services Group  (JASG), I faced the challenges of the pandemic—whose intensity has subsided now—and 'preighters' came to the rescue of our team. They mobilized cross-departmental
resources in providing cabin loading services and ad hoc pandemic-related supporting services. In addition to the day-to-day operations, I was also appointed as the member of the logistics advisory committee by the local government bodies to elaborate on any issues and lobby for the supportive policy/policies for sustainable logistics development in Hong Kong.
Determined to bring in change
I feel that the women can bring in new perspectives. Empowering the women is to let them speak out their mind and share their views openly, which many may see it as unconventional. To build a sustainable aviation and logistics industries, what is needed immediately is diversity and inclusion, which should be supported by all the related stakeholders. I believe that the women can see a more balanced representation of views and sustainable development of the aviation and logistics industries in the near future.
'I made air cargo modern, faster and attractive'
Celine Hourcade, Managing Director, Change Horizon
Passion for aviation & air cargo
I have always been fascinated by the aviation industry. I always wanted to get a job that would take me around the world. So I joined International Air Transport Association in 2006. After working for 13 years at the IATA, I decided to start my own management consulting company—Change Horizon. With my growing team, we started business development and transformation projects in the aviation and logistics sectors, and helped the leadership teams to implant sustainability and innovation into their corporate strategy and culture.
Determined to make air cargo sustainable
As the former Head of Cargo Transformation at the IATA, the Transition Director of The International Air Cargo Association or through my consulting company Change Horizon, I wanted to capture growth opportunities brought by innovation and future trends through the development and transformation projects. I am proud of my achievements to make air cargo more modern, faster and attractive—from the interactive cargo project to FACES program when I was with the IATA, and modernization of The International Air Cargo Association for the women in aviation and logistics. I am more than excited with the opportunities in order to make my clients and the air cargo industry sustainable and resilient. That is my mission in the coming decade.
Gender diversity important to succeed
The air cargo business is by nature international and is serving the world. It means the air cargo workforce and customers are diverse. The air cargo leadership should reflect that. Diversity and inclusion matter to every company. To capture the growth opportunities, it is important to have different perspectives, a set of diverse leadership styles, and a combination of skills. This is what diversity brings on to the table, and how it brings success.
'I never faced gender-based difficulties at my workplace'
Audrone Keinyte, CEO, Bluebird Nordic Group
'I didn't face gender bias'
I joined the Bluebird Nordic when I entered the aviation industry not so very long ago. For a moment I was afraid of the gender discrimination. But from the moment I entered the aviation industry, I was
amazed at the support I received from my new colleagues, especially from men. I have not faced any gender-based difficulties, while working at the Bluebird Nordic. It was a smooth ride all the way for me. Now I am extremely confident that I will be able to lead a successful team of professionals without fear of any gender bias.
Valuable contribution
I see potential for growth and development in the air cargo industry. Before being appointed as the Chief Executive Officer of the Bluebird Nordic, I worked as the CEO of a leading tourism services provider in the Baltics region. I took up the challenge with open arms and lead my employees through challenges of the pandemic, unscathed. Although the pandemic has nearly subsided, I trust that I will be able to lead the company, Bluebird Nordic, to new heights.
Equal representation, need of the hour
I consider diversity, equality, and representation as the focus areas that bring together different perspectives to help the businesses become successful in a competitive environment. For example, the aviation industry. Gender discrimination is unheard of at my workplace.
The customers are a strong proportion of our goals. We are excited to continue the partnerships with our long-term clients, who trust us and our services. These partnerships allow us to improve our services and find ways and means to fulfil the needs of our customers.  We are also set on continuing to grow our mark on the international cargo ACMI market and have plans to add 25 more B737-800 aircraft to our existing fleet by the end of 2024.
I was always listened to and respected by my peers'
Vanessa Hubert, Director, Revenue Optimization, DHL Aviation
Never felt out of place in male-dominated field
I have lived and worked in different parts of the world, alternated revenue management and pricing functions for air cargo airlines with commercial functions on the forwarding side. I always adopted the cultures of each country I worked and lived in. I have never felt that being a woman was either an opportunity or a burden. I was blessed as I have been listened to and respected by my male peers.
Seeking sustainable growth
As responsible leaders, we need to always ensure that we focus on sustainable growth. We are in an economic model that always wants more. Growth can only be possible if the wellbeing of the team members is taken care of. This is possible only if we make the necessary efforts to preserve and support the communities around us.
Gender balance is essential
According to reports, only 13 per cent of women are leaders in the air cargo industry. It is important to promote diversity and gender equality in this sector. Of late, several companies are running a programme to promote women leadership. Such programmes are necessary in order to put women in the spotlight. However, I hope that the women will be appointed to executive positions on the dent of sheer talent. I also hope that men and women will not be differentiated as far as salary element is concerned. Digitalisation is bringing in transparency in many processes. Of late, the air cargo startups are flourishing, and with them, new and fresh talent is being  infused  in the industry,  both men as all well as women.
Over the last few months, we have seen a number of initiatives launched to do away with gender discrimination. I consider collaboration and clarity as strong pillars of growth. I believe that these elements are important to boost any department or efficiency of any company. As a team, we need to have clarity about where we want to go and who we want to be in the highly competitive market.
'Women are steadily climbing up the ladder in the sector'
Sabrina Menahem, Commercial Manager Europe, Challenge Group
Women go extra mile to prove their worth
It is a well-known fact that being a woman in a male-dominated world is not an easy task. Women always need to go the extra mile to show that they are strong, capable, and have the required skillset. We must promote our ability to occupy higher positions. Especially in my position, leading multiple offices in Europe with different cultures (all of which need to be approached differently) is a daily challenge.  We work in harmony, respect, sharing ideas and open discussion.
We choose leaders not by their gender
The key to succeed is to be surrounded by the right people. We must be an example to the team and lead them, no matter if they are women or men. I am proud to be a woman and have contributed to support the global supply during the ongoing pandemic. I am fortunate enough because in Challenge Group, women and men are treated equally. The women leaders have been chosen, according to their professional skills only.
Gender diversity
The women are steadily going up the ladder in the industry. The world has changed. We see more and more of them in leading positions. I endorse the idea of having a specific target when it comes to a woman's presence in any organization and any initiative which contributes to it, such as those in aviation. The significant concept here is the ability of our community to understand the breadth of change in world trade and commerce and the capability
to quickly adapt the business model to sudden changes and the uncertain future. The logistics industry should adopt a multimodal approach to the supply chain in a bid to create alternative solutions from
origin to destination based on a variety of different goods and services and
encourage industry stakeholders, both men as well as women to perform well.
'There is no gender prejudice in our supply chain business'
Hima Parvataneni, CEO, Navata SCS
Taking forward family's legacy
Although the group has been around for more than 60 years, Navata SCS was started in 1982. I grew up watching the elders in my family do this work, day in and out. So being part of the industry was also about taking the Navata family legacy forward. The transition was not difficult, and I have not come across any gender discrimination myself, but I have seen many of the women going through it. We should cultivate a culture of publicly addressing workplace prejudice and have a conversation about it.
Logistics is an exciting business
I find supply chain exciting, whether it is in terms of analysing complicated data, solving new and interesting problems, taking quick decisions, or collaborating with multiple stakeholders to get things done. At Navata SCS, we devise new ways to meet our customers' specific needs. We are a technology-driven, asset-light firm, concentrating on offering end-to-end solutions. We raise awareness of these opportunities. We wish to inform youth, especially engineers, about the prospects that await them in logistics and supply chain industry. We provide free driving school and ITI courses at our Nandigama-based trust in order to encourage those who cannot afford such courses.
We need more women leaders
When you mention logistics, the image that immediately comes to mind is of truck drivers eating away at line dhabas. Also, there is a preconceived impression that the sector is unsafe for women. But it is far from the case. As measured by market value and revenue, being diverse has made the firms productive. There are studies citing women to be better managers
than men, and gender diverse companies are 27 per cent more likely to create superior value: such companies are likely to earn higher profits. Therefore, the women in the industry are not just "good things" but a profitable ones too. I believe encouraging the women will pave the way for a more gender-neutral business that will appeal to the
younger generation.
'Accepting a woman entrepreneur is a challenge'
Reema Jogani, Director, Reema Transport
Dealing with fair share of struggle, growth
The journey so far has been challenging and interesting. There is something new to learn. Success and growth require managing daily operations efficiently and constant adjustment to ensure we remain at the forefront of the industry that is competitive and rapidly evolving. Accepting a woman entrepreneur is a challenge, both externally and internally. I had to prove my worth by working in the trenches and executing daily operations. Ever since I have become the director of the company, the areas of responsibility are much wider and require more effort.
Time to encourage women in logistics
When I joined RTPL it was almost an all-male company. I made a conscious effort to recruit women, wherever possible. This small change literally changed the environment at work: it is now more sophisticated, sober, and less loud. We have also tried to bring about a change in the mind-set of employees also by inculcating the attitude of 'we' from the earlier 'me.'
Creating gender balance
The women are empathetic and view situations compassionately; this adds maturity and also a human angle.  This ensures that there are women at every rung of the organization. The companies in the past institutionalized processes and value systems to perpetuate male domination. However, replacing the existing work culture with fluid, transparent, and integrated workplaces will enable the talented women to grow. Diversity management programs will help establish positive work culture and introduce fair practices in recruitment, promotion, selection, training, appraisals, among others.
'Work climate must be sans gender bias'
Jessica Tyler, President, Cargo, and VP, Operations Innovation & Delivery, American Airlines
Be empowered to give your best
I am focusing on cultivating an environment wherein my team represents a range of diverse characteristics. In addition to gender and ethnicity, there are many ways to have a broadly represented team. My goal is that my team represents and ensures an environment wherein everyone feels a part of the team, and is empowered to bring their best. When you keep getting better at both elements, you achieve results in an organised manner. Ensuring work environment is one where all can thrive, it is a responsibility we all must own.
Creating work equality
We all have strengths and weaknesses, no matter our make-up or background. Building one's strength is the path to growth, and our teams have been designed that way at American Airlines Cargo. For example, designing a job role around a team member's strength, rather than forcing them into a box. I believe when we capitalize on what we are good at, as individuals, teams, large organizations or even as an industry, we set the foundation for great things to occur. My achievements are those which belong to the people I work with.
'Women are at the forefront of logistics'
Sakshi Gupta, Country Manager, India, Air Logistics Group
Currently, when women equality and empowerment is rising steadily, women are making parallel footprints in all walks of life around the globe. In India and some countries, there are still some pockets where gender bias exists and it is with awareness, motivation and persistent efforts that this gap can be reduced. The 'winds of change are blowing.' My journey started with Air Logistics Group (India) and my mentor, VS Ahluwalia, who always had faith in my earnest efforts and willingness to learn and explore, believed that with resilience, clarity, calmness, nerves of steel, everything is possible. Joining this group propelled me forward and there was no looking back.  Besides, the cargo fraternity was supportive, which ushered conviction that women can carve a niche of being 'Astute Architects' in any industry.
A vision
Regardless  of gender, it is paramount there should be a level playing field where equal opportunities are given to both women and men.  The future logistics workforce, we hope, will accelerate gender equality, curate special roles, and give opportunities to more women. Just mere words will not suffice, it should show in reality.