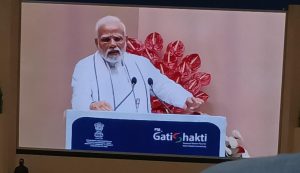 Prime Minister Narendra Modi launched the National Logistics Policy (NLP) in the national capital on September 17 which, he said, was an important step towards the 'making of a developed India,' while adding that the policy has come with a 'new energy for every sector.' In his address, PM Modi said, "In the Amrit Kaal, the country has taken an important step towards the making of a developed India. The echo of Make in India and India becoming self-reliant is everywhere. India is setting big export targets and is also fulfilling them. India is emerging as a manufacturing hub. In such a situation, the National Logistics Policy has brought new energy for all sectors."
The much-awaited NLP aims at enhancing competitiveness and seamless movement of goods.
"The National Logistics Policy is the first step in reducing logistics costs in India," said Modi in his speech to announce the same. "Performance of all ministries involved in the National Logistics Policy will be key in reducing logistics costs in India."
"Logistics cost needs to be reduced to single digit at the earliest from 13-14 percent. This is a low hanging fruit; we only need efficiency. National Logistics Policy, a comprehensive effort to address issues of high cost and inefficiency by laying down an overarching interdisciplinary, cross-sectoral, and multi-jurisdictional framework for the development of the entire logistics ecosystem, is yet another step in this direction," he added.
Apart from addressing the issue of logistics cost, Modi also focused on setting up Multimodal Logistics Parks (MMLPs) and enhancing multimodal connectivity. "The government, both at centre and state, would prepare a master plan for logistics that will cover projects planned by different ministries to ensure multi-modality, optimal modal mix and addressing first and last mile connectivity. The policy also makes way for a framework to set up Multi-modal Logistics Parks (MMLPs), which will be adopted by states and central ministries. This aims at seamless integration of various modes of transport. A framework will also be put in place for accelerated development of warehousing, which will address key aspects, such as standards, benchmarking and rating, adoption of technology enabled solutions."
The policy also introduces an integrated digital system (IDS) which will bring together different ministries like road transport, railways, customs, aviation, foreign trade, and commerce on one platform. All the departments will have their own digital data which will be integrated under IDS to help facilitate smooth cargo movement. The policy will also facilitate unified policy and regulatory environment for end-to-end logistics services and an overarching institutional framework that will govern the logistics sector and enhance its competitiveness.
The government, he said, is using technology to strengthen logistics sector. "Faceless assessment has started in customs and e-way bills and FASTag are bringing efficiency in the logistics sector."
The Prime Minister called the policy a solution for many problems and said that it would lead to improvements of "all our systems".
"There has been a constant effort to find solutions for fast last-mile delivery, resolution of transportation-related challenges, for saving time and money of our manufacturers and industries, all these subjects. The national logistics policy is a form of its solution. I believe that for the improvement of all our systems, there will be coordination between various units of the government working in these fields with a holistic approach. It will result in the delivery of the speed that we want to achieve," he said. NLP also seeks to address challenges faced by the transport sector and expedite the last-mile delivery while saving time and money for businesses.