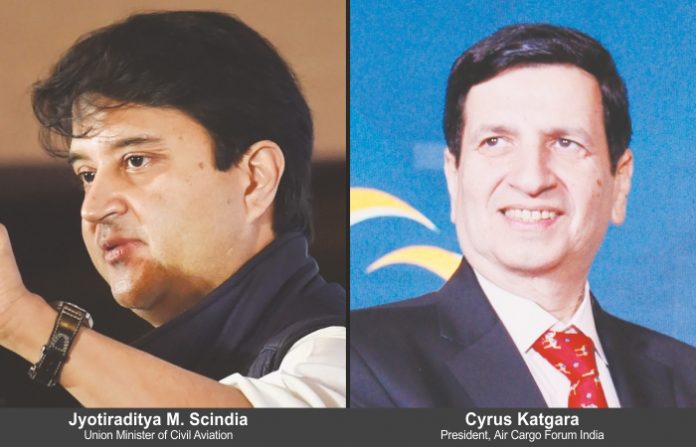 This can be achieved by acquiring small-sized aircraft. To facilitate this, new domestic cargo terminals will be set up, says Jyotiraditya M Scindia, Union Minister of Civil Aviation.  Another major focus area is Ease of Doing Business in air cargo sector to make processes paperless, automated, and digitized.
CT Bureau
Jyotiraditya M. Scindia, Union Minister of Civil Aviation, announced, "The country will have 33 additional domestic terminals by 2024-25." He was addressing the Air Cargo Forum India's (ACFI) annual event held recently. Speaking about reforms in the Indian air cargo sector, the minister said that the air cargo industry players need to focus on the transportation of smaller cargo loads from tier 2 and 3 cities to metros to achieve the target of 10 million metric tonnes (MT) in cargo. "This can be achieved by acquiring smaller-sized aircraft, and in order to facilitate this, 33 new domestic cargo terminals will be established by FY2024-25. Ease of doing business in the cargo sector in a bid to make processes paperless and digitized, which can make cargo processing swift, was another major focus area at the forum.
Charting the growth plan of the government's vision to reach 10 MT of air cargo by 2030, the minister said, seven Brownfield and three Greenfield locations and new airports at Navi Mumbai and Goa at an expenditure of 98,000 crore will be built in the next four years. Out of this amount, 62,000 crore will be spent by private companies and 30,000 crore by the AAI. Currently, there are 21 international and 33 domestic cargo terminals.
Focusing on the country becoming the fastest-growing economy in the world and how the government has set an target for India to become a US $5 trillion economy by 2024-25 (the fourth largest in the world), the minister said, "The potential for air cargo in India is tremendous. We are currently at 3.1 million MT and have targeted 10 million MT by 2030. We will develop a hub and spoke arrangement and build transhipment hubs across India."
Cyrus Katgara, President, Air Cargo Forum India and Partner, Jeena & Company, welcomed the minister, who took part as the chief guest, and Piyush Srivastava, Senior Economic Advisor, MoCA, who was the guest of honour at the ACFI event. This apart, the government will give an impetus to the agriculture sector. The government is targeting 53 cargo terminals,
which will connect airports with agricultural farmlands for the transport of perishable commodities.
Green shoots from Assam or Tripura's jackfruits can travel to London and Germany only to be consumed internally in Kolkata, Hyderabad, and Chennai. The government is certain that India will emerge as a global air cargo player in the coming years, the Union minister said.