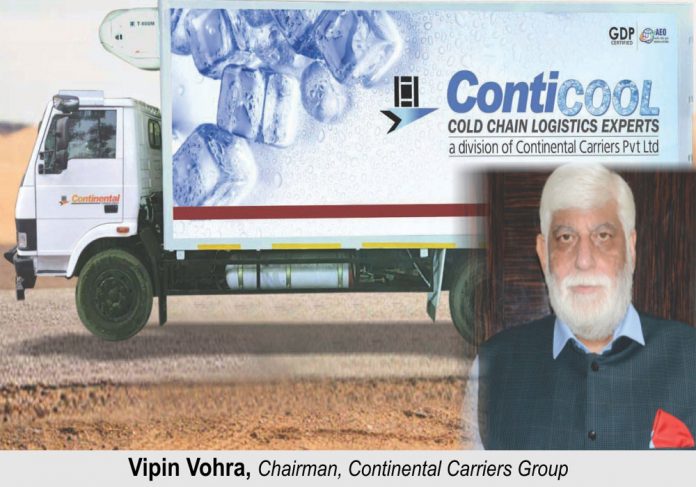 Continental Carriers is making fundamental changes in their approach to moving pharmaceutical shipments from point to point and continuously evolving in their pharma logistics business. Vipin Vohra, Chairman, Continental Carriers Group tells CARGOTALK how he has turned the crisis into an opportunity.
Kalpana Lohumi
Q How are you strengthening your pharmaceuticals logistics business? How are you handling the logistics of oxygen concentrators and other related equipment?
We specialize in pharmaceutical logistics and are definitely ready to deliver the vaccine. Being Good Distribution Practice (GDP) Complaint, we are equipped to handle sensitive vaccine and other pharmaceutical shipment. Our offering includes 'Thermal Blankets' in storage for additional temperature control requirements.
The most important goal of pharmaceutical transportation is maintaining integrity throughout the supply chain. Hence, we are offering various active/passive packaging solutions.
Environtainer: Thermostat-controlled air conditioning system with compressor cooling and electrical heating powered by rechargeable batteries.
Acutemp: This active unit will keep your shipment at a precise temperature regardless of the climate, and has the ability to heated cool in order to maintain the required environment.
Unicooler: It is a high-end active container based on dry ice technology with permanent air circulation but it also contains electrical heating technology with large rechargeable accumulators.
Opticooler: The temperature within the cargo compartment is regulated by using compressors for cooling in combination with as electrical heating.
Continental cold-chain transportation solutions are equipped with cutting-edge technology. 'ContiCOOL Cold Chain Solutions' address the challenges in the handling of pharmaceutical products. Our reefer trucks deliver products in the range of -25 degree Celsius to +25 degree Celsius. This refrigeration unit provides uniform temperature distribution with non-contamination. We have recently bought eight Compressed Natural Gas (CNG) trucks and will be changing the entire fleet by December. One of our guiding principles is to adhere to operational processes that meet or exceed global industry standards.
We are already running several state-of-the-art warehousing facilities across the country and aim to add another 50,000 sq ft in Chennai soon.
Q Could you please throw some light on your extraordinary achievements during the crisis?
During the period of April to December 2020, when the world was struggling to find solutions, Continental Team was moving military cargo between Delhi and France via air and ocean. The movement required special permit and handling license which exerts even more pressure on timely performance and delivery of assets as per SLA agreed.
We have moved Genx Engine Tooling complete set in September 2020, mounting to approx. 15 tonnes from US East Coast to West Coast on high ball truck and moved on RORO vessel to Nhava Seva. Given the sensitivity of the cargo, the same was monitored on hourly basis and feedback on safe arrival of these critical/expensive tooling provided to shipper and customer.
Continental Carriers has moved Business Class seats in August 2020 from France to USA on Charter on India's New Dreamliner. The movement entailed loading of this sensitive cargo and further delivery of same in US without jeopardizing the sensitivity of seats integration. During the period of 2020-21, our Aerospace vertical has moved over 40+ engines between export from India, imports into India and third country movements and counting.
We have successfully completed the door to door movement of Airbus H145 helicopter ex Germany, Donauworth to Mumbai on April 21, 2021. H145- Airbus twin-engine light utility helicopter can carry up to nine passengers along with two crew in standard configuration.
The helicopter will be used for passenger transport, corporate transport, emergency medical services (EMS), search and rescue, para-public and utility roles with the possibility of reconfiguration for various roles.
With experience of 64 years in the logistics industry, Continental Carriers is a proud member of IATA Family, one of the pioneers of CHA License Holders and International Freight Forwarding business with strong partner presence across the globe. Continental's global service portfolio includes AOG's, ODD Dimension, HAZ movements. The Group's Aerospace Team has for over a decade been the first choice for Private Carriers, OEM's, MRO and Lessors.