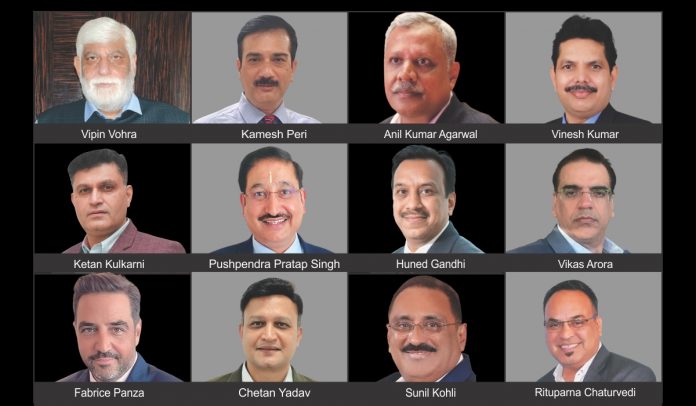 There has been a surge in demand for pharma globally ever since the pandemic struck the globe. Apart from lifesaving drugs, demand for medical equipment and bioscience products have increased. To meet the demand, pharma manufacturers, logistics service providers, cargo terminals have realized the need for resilient supply chains to offer customers' end-to-end transparency of shipments.
Ritika Arora Bhola
India is the third largest producer of medicines in the world and a large exporter of medicinal drugs. According to reports, the Indian industry has seen an expansion over the past few years and will reach 13 per cent of the size of the global pharma market, while enhancing its quality, affordability, and innovation. Performing as per its tag as the 'pharmacy of the world', India has been a global generic medicine supplier for 200 countries from developed and emerging markets. As per the report, the country has attained traction for being the largest producer of vaccines, contributing 60 per cent to the world's supply of vaccines.
As per McKinsey report, a several local players producing branded generics have provided the pharma industry with a unique opportunity. The kind of growth the industry has witnessed from a non-existent to a global pharmacy is extraordinary. This growth is an outcome of a series of sound legislation and economic environment, timely actions, and the motive of welfare to the masses.
However, the new normal has demonstrated the need for resilience and agility in the pharma supply chains forcing the manufacturers and supplier to rework on their storage of pharma products, logistics and supply chain management capabilities for creating value for customers.
The pharma supply chain comprises multiple layers, including acquisition of raw materials, manufacturing pharma, distribution to various entities, and to patients. In India, the supply chain network is complex and requires interconnected departments to ensure medications are accessible to patients in tier II, III cities, and interior locations. In this regard, pharma firms must improve their supply chain performance to improve their planning, procurement, financing, handling, and distribution strategies.
Major challenges
Inadequate cold chain infra at manufacturing units, airports' terminals, CFS, and small number of reefer trucks are major challenges. These apart, experts say inaccurate forecasting, lack of transparency, long lead times, high raw material costs, lack of optimal target inventory, manufacturing compliance issues, decreased R&D efficiency, and the industry's regulated nature are few other challenges. Medicines should reach the patient on time and the quality and integrity of the medication should be maintained during the pharma chain—from production to last-mile delivery. This should be the aim of pharma industry. The government and private entities are taking efforts to overcome these challenges, but experts say that collaboration and cooperation here is vital. The stakeholders involved in the supply chain must adopt an approach to survive in the long run. Investments in advanced technologies such as AI, ML, Data Science and Blockchain would be an advantage.
From the terminals' perspective, creating more capacity, cold chain warehousing space, maintaining the storage conditions, regular checks on the temperature and humidity conditions, and compliance with the special handling processes are a must.
From the carrier's perspective, the challenge is identifying handling needs and temperature of shipments. Lack of data makes shipment tracking incredibly challenging, as there is a lack of transparency and connectivity.
Remedies
Pharmaceutical companies and service providers must adopt policies and collaborate to succeed. Investments in new tech, and techniques are mandatory to overcome these challenges. To reduce costs and improve customer service levels, supply chain optimization, compliance, and efficiency are critical. Industry should follow norms and codes of conduct for ensuring patient safety. Pharma firms must focus on improving their supply chain performance to gain an advantage in the industry, after all each life counts and matters. reached out to pharma logistics service providers to gain in-depth knowledge on what is happening with pharma industry.
Building resilience, agility in pharma supply chains
Vipin Vohra, Chairman, Continental Carriers
• Digitalization: Implementing technologies such as automation, Blockchain, and Artificial Intelligence can help streamline the supply chain and improve agility, and flexibility.
• Collaboration: Building partnerships with suppliers, logistics providers, and customers can help create an integrated supply chain, leading to responsiveness and agility.
• Risk management: Investing in inventory management, contingency planning, and supply chain mapping can reduce the impact of disruptions and increase resilience.
• Capacity optimization: Optimizing utilization of storage facilities and logistics infrastructure can help reduce costs and improve efficiency.
• Sustainability: Embracing sustainability can create value for customers by reducing the environmental impact of operations, improving brand reputation, and increasing stakeholder engagement.
Bottlenecks
Lack of visibility: Limited visibility across the supply chain can make it difficult to identify potential disruptions. This can lead to delays, increased costs, and reduced satisfaction of the customer.
Quality control: Maintaining quality control is a must in pharma industry. Any deviation from the standards can result in product recalls, delays, and reputational damage.
Regulatory compliance: Firms must comply with all regulations and norms; non-compliance can result in heavy fines and reputational damage.
Cold chain logistics: Many pharma products require cold chain logistics, maintaining a specific temperature throughout the supply chain. Any deviation can result in spoilage and reduced efficacy.
Capacity constraints: Limited manufacturing capacity, storage space, and transport infra can lead to delays and increased costs.
Creating best infra for pharma handling, India has emerged as a major pharma hub, with a strong manufacturing base and a large pool of skilled workforce. The infrastructure for pharma handling is evolving, and there is room for improvement. Some of the challenges include:
Inadequate cold chain infra: Cold chain infrastructure is inadequate to support the demand for temperature-controlled logistics, and other temperature-sensitive products.
Limited storage capacity: Availability of storage facilities is often limited in India, which can make it challenging to maintain product integrity and quality.
Fragmented logistics network: The logistics network is fragmented, which can create inefficiencies and increase the complexity of managing the supply chain.
Initiatives to increase reefer vehicles
Use of advanced technology: Tech is used to improve efficiency of cold chain transportation. GPS tracking systems can monitor the location and temperature of shipments real-time, while remote temperature sensors can alert drivers if the temperature deviates.
Collaboration between stakeholders: Collaboration between stakeholders is important to ensure the smooth flow of goods across different modes of transportation. Shippers, carriers, and logistics providers can work together to optimize routes, while ensuring that products are handled in a safe manner.
Training and certification: Training and certification programs are available for drivers and handlers of refrigerated shipments.
Tech & innovation vital for pharma warehousing
Kamesh Peri, CEO, Celebi Delhi Cargo Terminal Management India
Airport terminals readiness to handle pharma
Airports play a significant role in transporting pharmaceuticals to destinations worldwide, and our airports and terminals have shown great resilience during the pandemic. At Delhi, we have a pharma logistics centre spread over 1,200 square meters. The centre has a pre-cool facility and four chambers in a range of +15⁰ and -20⁰C, with a capacity of 72,000 MT annually. We are GDP andCEIV Pharma certified for our cargo operations. We work closely with our customers to understand their needs and have taken care of infrastructure requirements, such as deploying "cool dollies" to extend the cool chain (-20 to +25 C) till the aircraft.
Crucial role of technology
Technology and innovation play a vital role in the shipment and warehousing of pharma products. Pharma shipments are sensitive to temperature, humidity, light, and other factors that can affect their safety. The shipment and warehousing facilities must have temperature-controlled and monitored storage, automated tracking systems, advanced handling equipment, and handling procedures. The use of Artificial Intelligence (AI), Internet of Things (IoT), and Block Chain has made the real-time tracking of temperature and humidity levels possible. It increases the level of transparency in the entire process of pharma cargo handling and transportation.
Pain points
The requirements of pharma shipments are one of the biggest challenges for every stakeholder involved in transportation of pharma products. Manufacturers, terminals and warehouses frequently face the challenge of maintaining the storage conditions, space, necessary regular checks on the temperature and humidity conditions, and compliance with the handling process.
Tech to solve delays, damage & disruption
Anil Kumar Agarwal, Director, Jeena Criticare Logistics
Building resilience & agility in pharma supply chains
Use of digital technologies: Our digital capabilities include Android/IOS-based mobile application for customers developed using the latest technology. Dynamic Query Builder, comprehensive user management for data security and email management, customizable report generation and the like. They help us in real-time monitoring of storage conditions, tracking shipments, and identifying bottlenecks.
Prioritization of safety and compliance: Safety and compliance are critical for customer trust. We prioritize safety measures such as regular sanitization of storage facilities and ensure adherence to safety protocols during logistics and transportation. We use special packaging standards such as dry ice boxes along with dry ice, refrigerated boxes as per product needs.
Adoption of agile supply chain strategies: Agility in supply chain is critical to ensure pharma is delivered to customers fast. We adopted flexible supply chain strategies to adapt to changing customer demands, supply chain disruptions, and regulatory changes.
Bottlenecks
The availability of raw materials is critical for pharma production, but shortages or disruptions in the supply chain can impact the production and distribution of pharma products.
Regulatory compliance: The industry is regulated, and ensuring compliance with various regulations can be time-consuming. Compliance with regulations such as Good Manufacturing Practice, Good Distribution Practice, and Good Clinical Practice can impact the supply chain.
Transportation challenges: Pharmaceuticals have specific storage and transportation needs such as temperature control, and any deviation can impact product quality and efficacies. Transportation challenges such as delays, damage, or loss can disrupt the supply chain.
Initiatives to increase reefer vehicles
The Union government has plans to build dedicated pharma parks to improve multimodal connectivity and infra for pharma shipments. These parks will provide modern cold storage facilities, specialized handling equipment, and transportation services, including the reefer vehicles.
Developing cold chain infrastructure: The government has launched the National Cold Chain Grid to develop a network of integrated cold chain infrastructure across India. This includes the development of temperature-controlled warehouses, reefer trucks, and other infrastructure needed for transportation and storage of temperature-sensitive pharma.
Technology and automation: The use of tech and automation such as GPS tracking and real-time temperature can help maintain integrity of time-sensitive pharma shipments. This can help prevent temperature excursions, reduce wastage, and ensure timely delivery.
Training and capacity building: The government and industry associations are working to provide training for pharma logistics professionals. This can help improve the handling and transportation of temperature-sensitive pharma.
Need cold chain infra development in tier II cities
Vinesh Kumar, Director, Industry Verticals (Healthcare & Aerospace), South Asia, C.H. Robinson
Building agility in pharma supply chains
Pharma supply chains require expertise. Our pharma logistics experts across the globe coupled with our scale and global suite of services positions us to serve this vertical well. To satisfy the healthcare needs, we have invested in tech to deliver proactive information and in-depth risk assessments. Our offices in India and across the globe are GDP-certified, and our personnel are trained to manage time and temperature-sensitive shipments. We collaborate with vendors and service providers to provide an uninterrupted cold chain and have contracted capacity with key carriers to supply our clients with continuous solutions. We have implemented efforts to enhance the supply chain and adapt to shifting consumer expectations with emphasis on creating agile solutions that satisfy customer needs.
Bottlenecks
Considering progress in the development of cold chain facilities at airports, dry ports, and seaports, there is still a need for such infra to be scaled up. When there is congestion, over-reliance on a few big ports can lead to crisis circumstances.To address this challenge, substantial investments in expanding and enhancing cold chain facilities across the country are required to maintain a stable and efficient supply chain for pharma sector.
Creating better infra for pharma handling
There have been developments in recent years, such as the establishment of outstanding cold chain facilities at greenfield airports, including Delhi, Hyderabad, and Mumbai airports. There is opportunity for enhancement in infrastructure for managing cold chain shipments in those cities where pharmaceutical companies and their auxiliary units are located. Because such facilities are scarce, most carriers continue to store handling equipment and reefer containers at the major ports. If these capabilities are made available where pharmaceutical customers are concentrated such as Ahmedabad, Hyderabad, and Bengaluru, cost and time efficiency could improve.
Initiative to increase reefer vehicles
While the companies offering vehicles have increased over the years, maintaining an uninterrupted cold chain for all shipments necessitate the availability of equipment at the customer location for air and ocean moves. This tech is not available for all routes of transportation, particularly when cold chain needs rely on active packaging solutions, underscoring innovation, and investment in cold chain infra to ensure transportation can meet the cold chain needs. To help our customers, we are working with carriers to have access to reefer vehicles to improve multimodal connections and links infrastructure in the ME and India, and across the globe for time-sensitive shipments.
Key issues: vendors & decentralised R&D centers
Ketan Kulkarni, Chief Commercial Officer, Blue Dart
Building resilient pharma supply chains
Our specialised Temperature Controlled Logistics solution capabilities include providing -80 degrees Celsius as per needs of the healthcare and life science sector. We have eight Pharma Grade Conditioning Rooms in Mumbai, Chennai, Hyderabad, Ahmedabad, Pune, Kolkata, Delhi, Bengaluru, and Pune. These rooms are near Blue Dart Aviation Station, which increases our TAT time and supports speedy delivery. As a part of the DPDHL Group, we have access to the assets of our firms.
The containers come with 120 mm of insulation to maintain strength, contain temperature, and maintain quality. Blue Dart has gained experience to handle capacity needs for packaging, insulated shippers, walk-in cold rooms, network reach, manpower, and technology investment, among others to handle pharma logistics needs.
Bottlenecks
The bottlenecks are what most sectors lack; real-time visibility and tech hindrances threaten their accuracy, reliability, inventory management, and compliance. In 2021, Blue Dart leveraged the concept of drone deliveries in India. We were the logistics provider for vaccine candidate clinical trials. To facilitate this, we ramped up our temperature-controlled logistics services to ensure a seamless temperature-sensitive supply chain for COVID vaccines. To extend our reach from 55,000 locations, the Blue Dart Med-Express Consortium aims to operate drones to deliver vaccines and emergency medicines in a safe manner.
Creating infra for better pharma handling
While India's infra for pharma handling and logistics is developing. The value chain is complex and poses concerns about product quality. Pharma infra in India faces gaps in its supply infra. In transportation, 5 per cent of roads, which are NHs, handle one-third of traffic. The rail network is inadequate, and the air network is underutilized. The cold chain market, which serves the pharma sector is fragmented. Organised players contribute eight to 10 per cent of the cold chain industry market; cold-chain vendors need linkage and technology.
Initiatives to increase reefer vehicles
We have a fleet of six large body of 737s, specialised handling, network linking all pin codes of India and DG certified manpower ensuring prevention of temperature excursions of time-sensitive shipments.
Coordination & consistent service is vital
Pushpendra Pratap Singh, Country Head, Asia Shipping India
Building resilient pharma supply chains
We offer special services to our customers in terms of packaging and data loggers. Blister, Vials, Aluminium for packing is being used for seaworthy movement. Finished, semi-finished, reference drugs, phototherapeutics, biological products, reagents, bioequivalence, healthcare products, hospital equipment and materials are being handled by air and ocean mode. We offer customised solutions to our pharma vertical clients.
Bottlenecks
Any delay in one link disrupts the entire supply chain process. Therefore, in order to render valued, timely and efficient services, a close corroboration, coordination, and consistent service is the significant to avoid such delays or deviations. While pharma products means continuity of services, it implies logistics service without any disruption or failure. At times, the transit times become lengthy and the vessel movement is frequently delayed. Another major bottleneck is catching the vessel at transhipment port. The left overload leads to congestion often resulting in production and delay in deliveries.
Creating better infra for pharma handling
Pharma infra developed comprehensively with import of world class medical beds, advanced testing machinery and several upgraded tech stimulating Logistics and Supply Chain Cascade. Not only pharma industry, but there is a scope for improvement in every sphere. There is a profound need of reefer containers at ICDs, especially in North India, as there is dearth of equipment with live monitoring of temperature ensuring safety and efficacious handling of shipments.
Pharma products require a clean and sanitized means of transportation to maintain its quality and shelf life. The GP containers requires meticulous cleaning, fumigation and maintenance prior to stuffing the goods.
Lack of team work hinders pharma supply chain growth
Huned Gandhi, Managing Director, Air & Sea Logistics, Indian Subcontinent, Dachser India
Building resilient pharma supply chains
Dachser Life Science and Healthcare Logistics leads the organization's efforts to provide our customers with best-in-class services. We focus on prioritizing training and certification programs for our employees and ensure they have the knowledge and skills that are necessary to handle all types of healthcare products, including temperature-controlled goods with attention to detail. Our dedication to quality is demonstrated by our strict compliance with industry standards and regulations, such as IATA CEIV, Goods Distribution Practices (GDP) and ISO 9001 certification.
Bottlenecks
The pharma supply chain is a complex network involving many stakeholders, integration of all associates at all stages is critical, and a lack of collaboration between supply chain stakeholders and subcontractors can impede the smooth movement of pharmaceutical products.
We are handling this well, all parties with whom we collaborate are striving hard and working within the framework of GDP and CEIV guidelines. Poor data management and a lack of knowledge about regulatory compliances in various countries are some of the factors that could contribute to process delays and slowdowns, which are considered high-risk factors. It is also critical to ensure full regulatory compliance at the manufacturing site as well as in transit countries for managing timely deliveries up to the destination of these critical products.
Creating better infra for pharma handling
India has improved in pharma handling and logistics infrastructure in recent years, which has helped India become one of the world's leading suppliers of generic pharma. New tech and facilities have been developed to improve storage and transportation of pharma products, including the use of cold chain logistics. While there is room for improvement, these developments strengthen India's position as a global leader in pharma manufacturing and supply. The National Logistics Policy has laid down the roadmap for India to emerge as a leader in global logistics.
Initiatives
The Indian government has taken initiatives to enhance multimodal connectivity and infrastructure in India, aimed at improving transportation of pharma. These initiatives include Make in India and Pharma Vision 2020, which aim to develop a modern and efficient pharma supply chain infra, including pharma parks, cold storage facilities, and logistics hubs. To address ferrying of perishable goods, including pharma, the Indian Railways has launched a new initiative called 'Kisan Rail,' featuring refrigerated coaches to maintain the required temperature during transit.
Surge in demand for pharma at airports CFS
Vikas Arora, Country Manager & CCO, Air & Ocean, Rhenus Logistics India
Building resilient pharma supply chains
Conducting Route Risk Assessment: We do risk assessments of all new business routes and identifying potential supply chain disruptions, and we also try to build alternative supply chain infrastructure to keep plan B ready in case the original plan has issues.
Digitalization: Build transparency across the SCM, by upgrading our systems, using GPS enabled temperature monitors that relate to our systems.
Vendor/Employee skill enhancement: Since we need to work with many stake holders in a supply chain, it's important that all employees and vendors understand the importance of delivering quality service without using shortcuts and the same time be ready for any deviations/issues.
Flexibility: To have agility we need to build flexibility in our process and give importance to quality service over other things. This can be obtained once we have complete visibility via digitalization, having plan B ready after conducting RRA.
Bottlenecks
Regulatory compliance: The industry is highly regulated, and compliance with regulations can be time-consuming and expensive. This results in delays in shipping and distribution, which can affect the movement of the supply chain.
Cold chain management: Pharma products require temperature-controlled storage and transportation, which can be challenging to manage. Cold Chain infra in India is still not up to the mark and needs major investment in building temperature control zones. The temperatures in many Indian regions make cold chains difficult to operate.
Multiple Stakeholders: During international transport of pharma goods, they move from local transporters to customer/custodian to airlines/carriers and are stored in many third part warehouses at different stages. Ensuring all stakeholders handle the shipments as per needs of temperature, handling, & housekeeping is a challenging task.
Creating better infra for pharma handling
Transportation: India's transportation infrastructure is still developing, and the country faces is facing challenges related to connectivity, infrastructure, and congestion. These challenges can impact the timely delivery of products and impact the supply chain.
Quality control: Ensuring quality control is a critical component of the pharma supply chain. However, India has faced challenges related to counterfeit medicines, substandard medicines, and regulatory compliance. Addressing these challenges is critical to maintaining the integrity of the supply chain.
Cold chain Infrastructure: India has made progress in developing cold chain infra, but there is still a need for development to meet the increasing demand for temperature-sensitive products, especially at key locations like airports and CFS's. It needs to monitor the infra already created and upgrade as per changing requirements of the industry.
Partnerships & tech to manage storage, logistics
Fabrice Panza, Manager, Global Cool Chain Solutions, Commercial, GDP Pharma Manager, Etihad Cargo
Building resilient pharma supply chains
Etihad Cargo remains committed to ensuring transportation of pharma safely, and we are leveraging the power of partnerships and technology to manage our storage and logistics. A concern when transporting pharma products and life science commodities is maintaining an appropriate temperature range to ensure the integrity of products. To expand our pharma storage capabilities, Etihad Cargo is launching a cool chain facility at Abu Dhabi Airport.
The cool chain capacity will be doubled—50,000 tons—of cool chain commodities.
Etihad Cargo is working along with the Department of Health, customs, the police, ground handling partners and freight forwarders to launch initiatives such as the Pharma Corridor 2.0 and dedicated long-term storage areas, such as the KEZAD.
We are also enhancing our IATA CEIV Pharma-certified PharmaLife product, launching innovative features and utilizing tech so our partners and customers can be confident their temperature-sensitive pharmaceutical products are being shipped reliably. We have recently announced the launch of dedicated thermal covers, which are helping us to mitigate environmental risks.
Bottlenecks
Of importance is ensuring the pharma products are kept within a strict temperature range during the flight and during first and last-mile transportation. This requires air cargo carriers and other stakeholders to work closely to monitor temperatures and facilitate handovers. Once the commodities arrive at the cool chain facility, the challenge is to handle the shipments that require different temperatures and handling. There is the stakeholders' challenge using different platforms, which can obstruct their ability to communicate with each other. A remedy for this is standardization, and this is precisely why the Etihad Cargo sought out and achieved IATA's CEIV Pharma certification.
Another potential bottleneck in the pharmaceutical supply chain is data or incomplete data, and data that has not been digitized and cannot be shared. Significant data that measures location, temperature conditions, weather forecasts, and speed is still, in many cases, recorded on a local level manually, making it difficult to share among all the stakeholders. This makes tracking cargo as it passes through the handling processes challenging, as there is a lack of transparency. New types of treatments are increasing the need for deep frozen solutions, innovative packaging, and tailored logistics solutions.
Initiatives to increase reefer vehicles
To enhance multimodal connectivity and ensure our PharmaLife product offers a resilient solution for shifting of pharma products, we have partnered with MICCO to provide road feeder services across the UAE and GCC. Via this partnership, we transport temperature-sensitive pharma products via customs-sealed and bonded container vehicles and refrigerated trucks, providing seamless connectivity between our Abu Dhabi International Airport hub and the GCC. Internationally, Etihad Cargo has partnered with the other RFS providers and freight forwarders so as to connect with the carrier's pharmaceutical stations and other gateways. Selecting partners that posses the CEIVPharma certification ensure that our high-quality standards are maintained.
Safe transportation of finished products must
Chetan Yadav, Vice President – Healthcare Logistics, Skyways Group
Building resilient pharma supply chains
The aim should be clearly communicated to the team along with the risks involved to have a better understanding of the product
Quick and efficient decision-making
Clear and accountable roles
Technology support
Focus on customer satisfaction, which can be achieved by proper pricing and on-time delivery of pharma products
Working tirelessly on feedback by customers and manage customer retention
Bottlenecks
Delayed production
Lack of pharma products grade vehicles and high transportation cost
Shortage of capacities/equipment/ plug-in points and high storage cost
Load restrictions by the shipping lines/airlines
Delays at trans-shipment points/ port callings/ omitting port of call
Safety of cargo in certain countries, including political unrest
Delayed clearance at the destination due to freight rush
Creating better infra for pharma handling
Projects such as DFCs aim to link existing ports and industrial areas for rapid freight movement and the Union Ministry of Railways increasing the corridors to double their freight capacity, while doubling the length of the trains. Similarly, with new ports and new roads being developed, turnaround time (TAT) of overall logistics has been reduced. Even the customs TAT has improved to an average of 2-3 days from 10-12 days. However, there are quite a few challenges the logistics industry face, including lack of integration of transport networks, transparency in information flow, warehousing, and distribution facilities. Another factor, which is limiting the development of Indian logistics infra, is the need for safe and precious handling and transportation of raw materials/finished products.
Initiatives to increase reefer vehicles
By increasing reefer vehicles one has to maintain integrity of time-sensitive shipments, create future roadmaps, and take initiatives to restructure multimode transportation by adopting efficient measures, and cold chain management with dexterity to save time and costs.
Capacity at economical rates required
Sunil Kohli, Managing Director, Rahat Cargo
Sustainability of products is essential along with the proper packaging hence, efforts are being made to store goods under the required temperature in the manufacturer's warehouse and are transported to the airport in snag-free reefer vehicles. The shipments are stored under stipulated temperatures in the carriers. The longevity and shelf-life of the pharma products remains critical here.
Hence the consignees are briefed to have these cleared at the destined airports. The products' exposure to varying conditions such as different environment, temperature, sunlight, and oxygen are being contained to the best of our ability in close liaison. The efforts are on for migrating towards biodegradable type of packaging, which can sustain the environmental variations.
Bottlenecks
We need to accelerate our methods to achieve product launching of the dynamic market supported by latest technological tools such as digitization, improving customer value, optimizing utilization of resources, and decreasing different types of costs. The major bottleneck, which restricts the supply chain is shortage of material. The other factor is availability of capacity with the carriers at economic levels of pricing. Another area of concern pertains to regulations, as each country has its own set of guidelines and hence the pharmaceutical companies would have to struggle hard to comply with their requirements. And finally, the delivery processes need to be a smooth at the delivering ports.
Creating better infra for pharma handling
The pharma and logistics industry expects a substantial growth of pharma products movement in future, which requires the government authorities' attention. All the major airport hubs should be adequately equipped with state-of-the-art cooling/temperature control provisions since the temperature plays a major role in preserving the longevity od pharmaceutical products.
Initiatives to increase reefer vehicles
An optimal utilization of technology and digitization along with an uninterrupted contact with the stakeholders, including the consignees can play a major role in ensuring that the pharmaceutical shipments are properly handled at all the locations to cause nil or minimal detrimental effect to the product.
Since origin of the functions begin with dispatching of the goods in the reefer vehicles, this particular aspect needs to be looked into by the shippers who need to ensure these are readily available in good numbers at their disposal, and these must be roadworthy to withstand any possible breakdown enroute.
Utilize compliance to define pharma supply chain
Rituparna Chaturvedi, Head, Healthcare & Chemicals, India, Sub-Continent, DSV
Building resilient pharma supply chains
Pharma logistics cannot cope without resilience and agility, We in DSV Healthcare Vertical have worked diligently to be resilient and agile by having efficient handling techniques to ensure fully compliant pharma storage, best practices logistics and SCM activities. Global firms like DSV, encounter a huge number of variables- languages, differing regulations, perhaps poor coordination by leadership, historic regional relationships, local customs and holidays. In healthcare, quality is certainly a critical issue as any failure puts people's lives at risk. These variables, that are often also regarded as issues and lead to under-performance and increasing costs.
DSV sets out to turn these issues of compliance into an opportunity to reduce customer risk and increase their profitability—a classic "win-win" for all. Pharma logistics is expected to operate with resilience and agility but, we also have other challenges, additional losses and manpower cost associated with disruptive market influences such as counterfeit products, increasing downward pressure on commercial margins, internet drug sales, political unrest, natural disasters etc. that create an unstable environment.
Since most of the losses occur in and are associated with logistics, the blame falls on the logistics industry, which itself is constrained by external factors like decreasing margins (competitive tendering by manufacturers and distributors, increasing overheads, huge cost root cause analysis) and increasing compliance requirements (by regulators and customers). The objective is to utilize compliance as an opportunity to define the pharma supply chain as an endless process.
Creating better infra for pharma handling
DSV Healthcare vertical treats each pharma shipment as a lifesaving shipment and not as another package. Our top objective is patient safety and delivering unparalleled customer services. This includes temperature controlled shipping either as passive or active solutions, temperature monitoring, maintaining product integrity, timelines of delivery, full visibility and more. The ultimate aim is to deliver products to the patients in right conditions, in right time and at right cost. We have extended our temperature controlled storage facility footprint globally with additional solutions in India- in Mumbai, New Delhi and Hyderabad.
From quality perspective global HealthcareQMS, is in line with the latest GDP guidelines, is being rolled out to embed the product handling in the processes throughout our network. The raised awareness has increased the knowledge level throughout the organization, resulting in structurally better quality. As for the temperature controlled facilities at key gateways Nhava Sheva, Mumbai, New Delhi and Hyderabad, the increased capacity allows us to provide a solid alternative for shipping in temperature controlled packaging solutions to multiple customers for both ocean and air freight. GDP is embedded throughout our processes. We're covering the GDP areas in the part of our Freight Forwarding processes as well as the (intermediate) storage. Such initiatives are part of our continuous improvement of procedures for pharma handling and logistics. The vision is to take a leadership role in the development of GDP compliant supply chain solutions, we at DSV already have the best-in-class infra for pharma handling but, we will continue to better it for our customers.