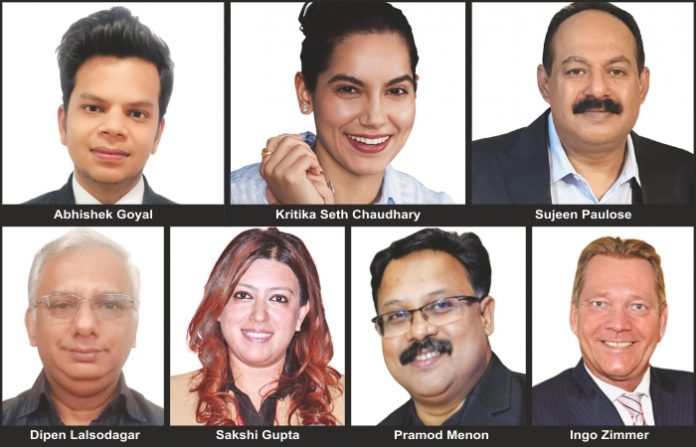 General Sales Agents have evolved in the past one decade, from being sales and marketing agent for airlines in particular market or country or region to General Sales and Services Agents. GSSAs have come a long way from offering services such as handling and managing end-to-end business of air cargo.
Ritika Arora Bhola
Evolving role of GSSAs globally
GSSAs have truly ensured the unbroken air cargo link, their responsiveness, agility and quick thinking have kept the air freight flowing even through uncertain and chaotic times like the pandemic and Russia-Ukraine conflict. Acknowledging, Abhishek Goyal, Executive Director, Aeroprime Group said, "The role of GSSAs has evolved from being a mere sales partner for airlines to a full fledge one-stop solution to manage a particular country operation for the airlines.
We have innovated the GSSA model to a new-age tech-driven GSSA solution encompassing future ready new distribution capabilities, digital marketing, and seamless interline solutions. India has a potential for pharma exports and with our expert team of cargo specialists, we focus on developing this pharma movement. Similarly, we are a leading player when it comes to export of perishables from India catering to the major GCC market with our partner airlines carrying a varied range of perishables."
"The role of GSSAs has become critical in the post COVID scenario, affirms Kritika Seth Chaudhary, Head, Business Development & Marketing, Allied Aviation. She added, "As the world is opening, the demand for cargo
distribution worldwide is increasing, especially for pharma and perishables.
With disruption in global supply chains caused by COVID, cargo airlines are relying more on GSSAs to manage their cargo operations. We are playing a vital role in coordinating with the airlines, handling agents, and other stakeholders to ensure seamless cargo operations for time-sensitive and critical shipments, including  pharma and perishables."
Agreeing, Sujeen Paulose, Director, Commercial, Hercules Aviation said, "GSSA plays a vital role in the growth and development of the air cargo business, more so in post COVID times. Airlines are searching for organisations that can manage end-to-end business activities of air cargo during post COVID. We have learnt a lot from the pandemic, which has helped us to evolve. We bring 20 years of expertise with strong customer relations to understand the increased demand well for global distribution. We are investing in IT and infrastructure to optimize the supply chain.
"With the world opening, GSSAs find themselves in a position where there is a rapid influx of airlines inducting new aircraft, expanding new routes, and initiating operations into new regions. This coupled with the increased demand for international cargo distribution, especially for pharma and perishables, has led to airlines looking for collaborations in the form of GSSA representation to help initiate and sustain cargo ops post pandemic. Digitalization, market experiences, on time performance, customer relationship and expertise in charter business, makes Hercules Aviation the natural choice of the airlines," he added.
Meanwhile, stating a report, Dipen Lalsodagar, Deputy Director, Cargo Sales, Global Aviation Services said, "As per market reports, there is a surge in pharma and perishable movements from India post-COVID. GSSAs are playing vital role in identifying the core sectors to which airline principals can cater. A region such as the Northeast has the potential for perishable markets, and we are working on promoting exports for our principal airlines by liaising with various trade bodies in the region."
Sakshi Gupta, Country Manager, India, Air Logistics Group said, "COVID had a worst impact on global economy, including aviation, but on the brighter side, the crisis inevitably made Indian air cargo more mature—air cargo GSSAs having firmly rooted local presence and local expertise have been a boon to airline partners to act swiftly at a time when cargo became the hero for aviation.  As passenger flights slowly opened—the airlines represented by GSSAs stood tall and ready with utmost confidence, especially when business trips took longer to recover. We have not only fostered a sense of financial security and stability to our airline partners, but also supported to collaborate with all stakeholders such as govt bodies, airports, GHAs, freight forwarders, exporters, consignees, among others. Air Logistics Group as a GSSA to a bouquet of airlines, has been a reliable and resilient partner being their extended arms, ears, eyes and importantly, boots on the ground for our airlines."
On similar lines, Pramod Menon, Vice President, Cargo, Rainbow Aviation averred, "Airlines, GSSAs, logistics companies are slowly getting back on track. When airlines were operating during COVID with freighters and preighters (P2C) for moving pharma from India and other places, it was the GSSAs, appointed by the carriers, who played a vital role in managing the airline operations, coordinating with government bodies, custodians, handling agencies and ensuring the safety of the aircraft and cargo, despite shortage of staff."
He added, "The GSSAs took lot of risks by being physically present on the area of operations so that all airport functions are conducted smoothly. The airlines have realized and accepted the fact the GSSA module is the best concept for any airline in any country. Appointment of GSSAs is based on their background, experience, trust, and financials, important for any major carrier planning operations in any country. Post COVID, GSSAs have come up with various recommendations and suggestions for their airline partners related to saving costs, increasing revenues, and tonnages."
From a global perspective, Ingo Zimmer, CEO, ATC Aviation said during COVID and lockdowns, digitalization became the only way forward and helped GSSAs overcome the challenges. "This digital communication has proved to be effective and will continue to be a major part of the communication with our customers.
In the post COVID situation, we started to reactivate the direct contact with our customers. Business travel started again, and our group has participated in industry fairs in India, Brazil, the USA, and South Africa. In our industry, a face to face dialogue with business partners and friends is important. We believe a strong focus on the customer and its needs is what makes GSSAs successful, and after the curbs were lifted, our sales teams hit the road to do sales calls and meet customers again. In the post COVID scenario, pharma is still the fastest growing air freight and during COVID, ATC arranged hundreds of charter flights. To cater to these products, we have set up a pharma and a charter competence team at our head office in Frankfurt.
Providing the best deals
GSSAs play a vital role in assisting airline customers to expand global network, while managing costs and boosting trade opportunities. It is estimated that 25 per cent of the air cargo industry's US$50 billion annual revenue is raised via outsourced sales operations, which means GSSAs are responsible for generating US$12.5 billion of the industry's annual income. GSSAs account for around 25 per cent of worldwide air cargo sales. For this outsourced sales
function for airlines, accurate data is important to keep up with local requirements.
Goyal said, "We are expanding our network internationally wherein we can extend our partnership with airlines to a multi-country engagement build on our innovative new-age GSSA model."
Chaudhary affirmed, "GSSAs can assist airlines in expanding their global network, while managing costs and boosting trade opportunities by leveraging their extensive network and expertise in the local markets. We provide the airlines with valuable market intelligence, identify potential business opportunities, and offer customized cargo solutions tailored to the specific needs of the airlines.
By partnering with GSSAs, the airlines can benefit from their local knowledge and expertise, reduce overheads, and focus on their core operations. We also help the airlines to build strategic partnerships with other airlines, airports, and logistics providers, enabling them to expand their reach and access new markets."
Lalsodagar stressed, "We look for feasibility for short-haul cargo charters based on demand. Cargo consolidation is the key to such charters. Interline partnership is another key factor for working outside the territory and expanding the airline network."
Paulose said, "The main driver for expanding the global network is the increase in the demand for air cargo. A bigger potential market becomes attractive, especially for the GSSAs to adopt a bigger customer base on behalf of our airline customers. We offer customized logistics solutions to our customers with our pan-India presence, being on the lookout for commodity-wise route development, offering tailor-made services to each of our customers, thus maximizing the customer outreach and cargo collection.
Besides being cheapest in the market, we help the airlines costs and give them an unmatched comfort level. Hercules Aviation has continued to invest, by adding value where we can, and easing the pressure on our airline principals."
Zimmer said, "With international network of offices, we can cover many of the global air cargo spots for our customers. The network is constantly expanding. A high grade of digitalization, including e-booking channels and bots for data capture, is the most important tool to keep the costs down and to put us in a competitive position. The charter and solution business are two new business segments. To balance our portfolio, we also started representing on board courier businesses. Beside a strong sales team, data is the key to boost the airline customers turnovers. In all our 34 entities, the management got access to Power BI data pool with information coming from sources such
as IATA, Seabury, Clive, among others."
Expressing similar sentiments, Gupta said, "Prompt digital transformations and thinking out of the box at Air Logistics Group have made us bigger, better, wider, unstoppable, and cost-effective for our partners. Quick adoption of technology to access corporate capabilities from the windows of our homes and remote places became non-negotiables."
Till date, the ALG has hybrid working models worldwide and innovative interline solutions for our freight forwarders to find inroads to reach new frontiers globally for a wider logistic global footprint, as a significant contributor for us, as a GSSA, adding up to our strength as a solutionist for our customers. Air Logistics Group has invested in a pool of market data, and with our in-depth business intelligence and analysis not only for the current, but future market trends and anticipatory pricing, especially at a time when the market dynamics are changing fast, and help ALG give innovative and creative solutions to our partners. At the same time, we together can be wary of certain roadblocks in advance with equal preparedness. The greater the challenges, the greater will be the glory to surmount it, that is what we at the ALG believes in, she said.
Menon highlighted, "The Rainbow Aviation has always been associated with their principal carriers not as a GSSA, but as a reliable partner. We understand the value of partnership and never let our partner down. We have always shared responsibilities equally with all our airline partners. Worldwide recessions due to wars, civil unrest, increase in fuel prices, limitations in exports, and imports, increase in passenger capacity/flights have restricted many carriers to operate freighters.
"During this time, we stood with our partners by supporting the operations with block space arrangements (BSAs), which ensure the revenue commitment the airlines have represented. This creates confidence in the airlines to operate freighters into any country when they are assured of a reliable partner."
Crucial factors
GSSAs follow few important metrics, while serving a particular airline. Goyal said, "As GSSA, the most important metrics to track our services' success would be the bottom line—cargo yields and upliftment on the airlines we serve. We aim to develop the right destination and product mix focusing on special products to deliver incremental revenue opportunities for our partner airlines. This has helped us build our position as leading and fastest growing cargo GSA in India."
Lalsodagar said, "The main criteria are yield and capacity management to maximize tonnage and revenue. Territorial coverage of the airline products to cover smaller markets through offline sales. Promoting special products based on market demand is another key sales factor."
According to Chaudhary, "First would be cargo volume and revenue generated; this is the most critical metric
that determines our performance as a GSA."
Marketshare: increase in marketshare for the partner airline.
Load factor: as a GSSA, we track the load factor or the percentage of cargo capacity utilized by the airline to ensure that they are maximizing the cargo space and generating revenue.
Compliance and safety: we ensure that we are complying with all regulatory requirements and maintaining the highest standards of safety and security in all our cargo operations.
Market intelligence: Paulose said, "We strive to become the most admired global quality service provider, delivering innovative solutions, give quality experience to our customers, and commit to deliver the services expected of us. Besides customer satisfaction, we base our business on four pillars: integrity, partnership, people, and professionalism. We offer digital services and bring the best global practices with punctuality, reliability, cost reduction, speed, and constant quality monitoring. Going green saves green. Environmentally friendly practices are adopted not just for the environment, but to boost our business too."
Zimmer added, "Our GSA management method is adjustable, allowing us to tailor our services to any need our partners may have. Our main competencies in market research, business intelligence, and airline consultation are critical to our partner's success and distinguish us from other GSAs, whether we are deploying a more traditional sales and booking solution or outsourcing our partner's end-to-end cargo services."
"We choose our experienced middle management and sales teams. People are our biggest assets. As a global organization, we have the power, network, and financial backing to respond to the industry's ongoing challenges," Zimmer said.
Intervening, Gupta said, "The ALG carries a neutral GSSA outfit, which instills confidence with both the airlines and the freight forwarders to work with us and they feel safe with their business in our capable hands.
ALG thrives on diversity, expertise, and international alliances that help us build a stronger, borderless future and footprint. Locally, we extend our operational warehouse and ramp supervision services to our airline partners to ensure seamless movement of the freight right from when it reaches the airport, to optimum space utilization and build up, to timely uplifts, to delivery at destination—our teams are clued on. These value-added cluster of services are the cherry on the logistics cake for each of our airlines and agents."
"The Rainbow Aviation regularly conducts route studies, market studies and planning in various markets in India and abroad through its own offices or our associated offices/partners. We provide suggestions of aircraft types to be operated on routes with commitment and create space capacity for our airline partners, where we feel there is a need of capacity creation based on the customer requirements."
The Rainbow Aviation has invested heavily in technology and software solutions in its offices in India as well as abroad. We have a full-fledged customer service, network coordination, and sales team headed by airline professionals, the backbone of our functionalities," Menon pointed out.
Future plans & projects
Goyal said, "We are always exploring new projects and partnership opportunities, where we are going to add more cargo capacity and flights from the country to expand our offerings to our trade partners. We are working on developing a unified online cargo booking platform in line with industry's shift toward digitalization."
Paulose shared, "At the Hercules Aviation, we are on the lookout for new routes, new businesses and our customers serving these projects. We are into global collaboration, which would mean new business and more capacity, thus adding to the list of customers. We are in discussions with various airlines, trying to bring them to India and play role in contributing towards the target of 10 million tons, as fixed by the Government of India by 2030."
Menon noted, "Adding new customers into our portfolio is a primary focus, and we will have new airline partners getting associated with us this year. Rainbow Aviation will continue its focus on BSA Model and capacity creation and over the time to be a cargo airline operator in the country. We would also like to invest more in the air cargo industry in India by providing logistics and airline training to students and those who would like to join the airline and GSSA industry."
Zimmer concluded by saying, "As many tenders as we are now receiving is a record for us. Many airlines are seeking for new partners and the number of tenders we handle every week is high. There is a tendency to appoint a GSSA for a region instead of only one country. Here our wide network is an advantage. We are attempting to grow internationally through both organic growth and acquisitions."