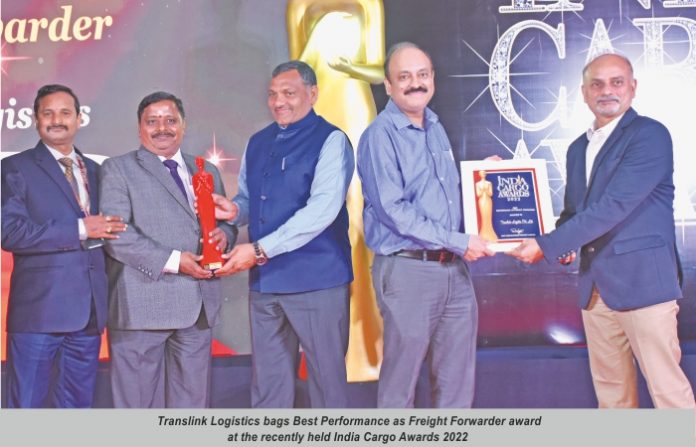 Prakash Nagarajan, Director, Translink Logistics shares how advanced technologies such as AI, IoT, and Blockchain, are making its foray into the Indian logistics sector as businesses stride toward recuperating the losses incurred on account of the ongoing pandemic. Contracts with logistics and other suppliers are also likely to evolve to improve efficiency.
CT Bureau
What are your firm's growth strategies for 2022?
Companies will speed their digital transformation as the pandemic fades and business stabilizes. To tackle the financial crisis and other challenges, large corporations may turn to advanced technologies such as AI, Blockchain, and the Internet of Things. Contracts with logistics and other suppliers are likely to evolve as companies seek tighter control over their supply chains. These changes will benefit companies that have the resources and know-how to adopt them. The impact of COVID-19 shows that long-awaited structural reforms to formalise and simplify logistics are more important than ever.
What role does the government play in improving the performance of the logistics sector?
Make in India will contribute more than US$ 20 billion to the Indian logistics sector over the next five years since 20 of the 25 focus sectors have a high reliance on logistics. Major focus on training and skilling has come as a breath of fresh air. With the growth of logistics, we will require an eight million more skilled workforce in various realms of logistics, including drivers, mechanics, loaders, MHE operators, delivery people, operations, and yard assistants. Global investors have realised the merit in investing in logistics businesses and infrastructure in India. The plan includes integrated sector development through policy changes, improving existing procedures, identifying bottlenecks and gaps, and introducing technology. It is the right step towards the sector's regularization. Gati Shakti to various economic zones will boost economic development and sustainability.
How can the Sagarmala program enhance logistics performance?
The Sagarmala program has improved the performance of India's logistics sector by leveraging the country's waterways and coastlines. It was launched with the goal of cutting logistical costs, resulting in annual savings of `35,000 crore to `40,000 crore. It also plans to cut carbon emissions by 12.5 MT per year through transportation. In the long run, the project will benefit both the industry and the environment. India is a land of rivers and seas with easy access to ports. It is high time to capitalise on these opportunities for economic gain. The sector is being driven by a slew of policy changes and infra upgrades. The transformation began with measures such as GST and the e-way bill.
What are the crucial areas of concern for the industry?
Safety and sustainability are critical business drivers for the industry, especially given the urgency of environmental challenges. Leading logistics companies are using connected technologies to collect and share data in real-time to help drivers reduce fuel consumption and drive safely. According to market reports, there is an overall shift in how the sector is perceived as a specialized function, not just as transportation or warehousing. The logistics market is expected to grow at a CAGR of 10-12 per cent to US$ 380 billion by 2024-25, owing to increased demand. It will also improve India's competitiveness.