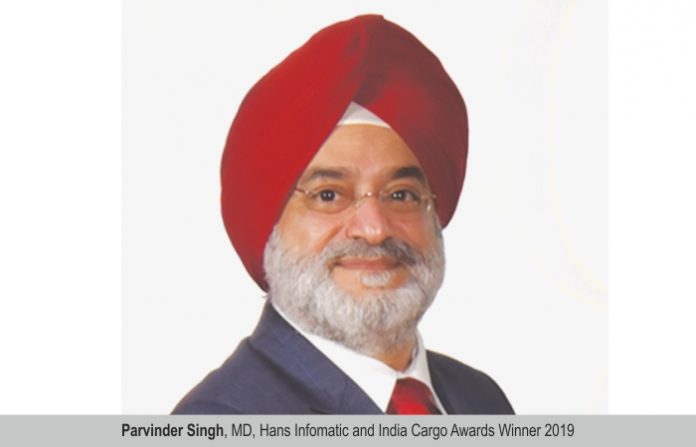 The cargo community system brought the industry stakeholders including customs, customs brokers, airlines, cargo handlers, freight forwarders, shippers, etc. under one roof, thereby facilitating the seamless movement of goods and data across the logistics ecosystem. Parvinder Singh, MD, Hans Infomatic shares details.
Priyanshi Bana
Kindly elaborate on the services offered by Hans Infomatic.
Hans Infomatic is a pioneer in providing technology solutions to cargo and logistics industry in India, with over 30 years of domain experience. In the logistics and supply chain industry, including Airports Community Systems (ACS), ICDs, airlines, cargo handling operations (air, sea & land), freight forwarding, customs broking, shipping and aviation, Hans has empowered and carved a niche for itself by providing domain enriched, emphatic & cost- effective technology solutions meeting international standards. The solutions from Hans come with a very deep understanding of the domain. This makes our solutions easy to implement and use, thereby increasing business process efficiencies and effectiveness, right from the word go.
Below is our wide range of technology solutions/offerings to the cargo & logistics industry:
iCAFFE – Web-based freight forwarding, customs clearance, billing & accounting module
WiseDox – Central storage system of all e-documents, go paperless, safely & securely
HR Expert – The next generation, remote workforce management system
Advanced Manifest System – Air/Sea Consol, IGM, EGM filing solution for Indian customs
WiseStox – An efficient, effective and automated warehousing system
WiseFleet – The most comprehensive technology solution for fleet management
WiseCargo – The highly compatible interface for air, sea & land cargo handling operations
ACMES (Air Cargo Message Exchange System) – It is the air cargo community system, bringing together all
stakeholders under one roof and facilitating the seamless movement of goods
Salient features of our solutions:
Cloud ready – Releases you of investment in expensive hardware and manpower to manage it
Integrated to other ERP and external modules – No need to worry about technology being used, now or in the future
Device ready – Be it PC, tablets or mobiles, our solutions are geared to be accessed on any device
24 X 7 visibility – Can be accessed, anytime from anywhere
Updated databases – Get correct information at all times by our regular database updates
Tracking – With near real-time information, any part of the shipment and processes can be tracked
What is the role of digitisation in making logistics supply chain sector more efficient and visible?
Worldwide, logistics and supply chains are undergoing a transformation as more artificial intelligence is being employed to manage both domestic and international movement of goods. There are vast opportunities, from improving performance to creating customer satisfaction, and the logistics service providers are increasingly seeing the benefits of being part of a digitally integrated value chain that is truly global, scalable, agile, and cost-effective.
The industry is now waking up to the potential transformation that it can undergo by leveraging the new-age technologies that can drive the sector in the near future. Digitisation plays an important role in optimising the modern supply chain. It extracts important data from customers, suppliers and documents. It helps to manage the flow of goods throughout the supply chain, ensuring that raw material and products are in the right place at the right time by providing digital tools. It can analyse warehouse processes and optimise the sending, receiving, storing, picking and management of individual products. Digital tools analyse the fleet performance and ensure the right distribution channels to get goods to retailers and other customers in good time by providing timely metrics.
Our offering to the trade is a widespread bouquet of highly customisable applications for end-to-end logistics management, for almost every trade partner in the supply chain.
What are the new digital Initiatives taken up by your company in recent times for better visibility and efficiency?
The COVID-19 pandemic in recent times has forced companies across, to adapt to new ways of working and doing business, which experts believe is the new or next normal. Now the business houses have re-engineered their organisations to reduce costs and follow social distancing norms among other things. The key is to get the most optimal model, based on several parameters such as type of work, security requirements, customer constraints etc.
We at Hans understood the fast-changing scenario and very quickly came out with adaptive solutions (which were already in place though) to counter work crisis during lockdown and post COVID-19. We have literally reduced much of paperwork, provided seamless integration with other third-party systems and helped standardisation of processes. People who earlier hesitated, have now moved as they realised the power of cloud to work from anywhere. Moreover, digitisation is now a necessity and not a choice.
Hans facilitated air community in handling cargo operations right from paperless, contactless to gate pass management. Our cargo community system brought together all stakeholders including customs, customs brokers, airlines, land transport, ground & cargo handlers, freight forwarders and shippers under one roof, thereby facilitating the seamless movement of goods and data across the logistics ecosystem. This eliminated unnecessary documentation and delays, hence bringing transparencies in supply chain and improving upon ease of doing business in the sector.
We have also provided faster transformation and enabled our customers to work from home/anywhere model rather smoothly, providing business continuity without lowering quality or productivity. Also, data plays a key role nowadays, hence we are assisting organisations wherein data can be accessed and shared at the click of a button. This has helped the industry to take informed decisions while building a more optimised infrastructure. So, cloud-based data management has now come to the forefront.
Not to mention, we got excellent feedback from our valued customers on adapting secured digitised solutions from Hans during such difficult times. We are proud to mention that the whole team of Hans has been working effortlessly round the clock to facilitate the industry operate seamlessly, while keeping them safe, yet connected and help achieve their goals. Being a technology solution provider to the cargo and logistics industry, the responsibilities these days are more on our shoulders to support the industry in challenging times.