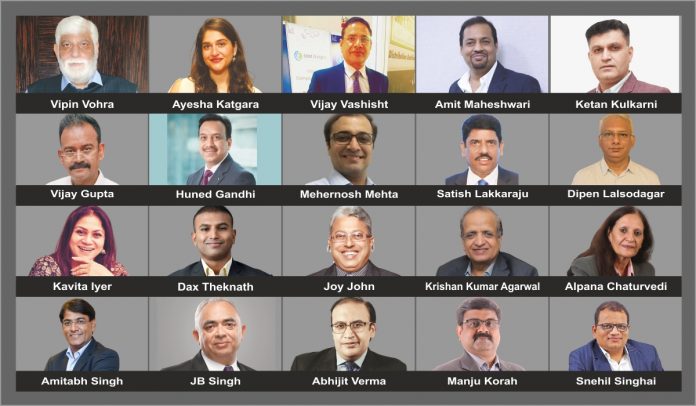 Demand for skilled manpower in logistics sector has witnessed surge in recent times, owing to govt initiatives such as PMGS, Make in India and National Logistics Policy. Skilling workforce in logistics and related sectors such as air, road, rail, and sea could provide jobs to several Indians in the coming decade, apart from reducing logistics costs and inefficiencies.
Ritika Arora Bhola
COVID proved to be a blessing in disguise for the Indian logistics industry. The crisis not only transformed the sec-tor, but also accelerated the opportunities in 'innovation' and 'digitalization,' which bolstered potential and employment opportunities.
There is a need to upskill manpower logistics today: to understand and adopt new age technologies, to work in smart 'robot-friendly automated' environment, to use latest techniques and tools being deployed by the firms to enhance efficiency, agility, and efficacy of logistics operations. Several top logistics firms have started their own institutions—MyLogistics Gurukul, Om Institution of Logistics, CII Institute of Logistics, JBS Academy-Institute of Import & Export Management to name a few—to train the logistics aspirants, as per the industry's needs. Be it air cargo, road, rail or maritime—a lot of emphasis has been laid by both the government and private entities on producing well-trained and skilled logistics professionals to meet the industry demands and set a global benchmark.
The growth of e-commerce and domestic manufacturing in the past few years has given a boost to the logistics sector. The government's ambitious initiatives such as Make in India, Self-Reliant India, NLP and PMGS have re-sulted in a rise in demand for trained personnel. Logistics is no more a blue-collar job, there is gender diversity, scope, potential, exposure, and lucrative pay packet. There is huge demand for skilled managers, making logistics a career option. A supply chain manager in India earns around 13 lakhs per annum and above in the country.
Thanks to the digital revolution, which has impacted the supply chain sector, the introduction of advanced tech-nologies such as Block Chain, Internet of Things (IoT), Machine Learning and Artificial Intelligence (AI) have in-creased efficiency leading to significant profits and opened doors for employment. To create a sustainable skill ecosystem aligned to the industry's needs for the logistics sector, India needs to gear up with opportunities for the professionals who can take the industry to the next level. CARGOTALK spoke to logistics experts about creating skilling infrastructure, initiatives taken in the recent times, areas of concerns, and the way ahead.
Collaboration across supply chains needed
Vipin Vohra, Chairman, Continental Carriers, Upskilling manpower
On-the-job training to workers to hone their skills to perform their job effectively. This training covers various aspects such as handling goods, operating machinery, safety protocols, and other industry-specific skills.
Classroom training sessions to employees to teach them topics such as freight forwarding operations and dan-gerous goods.
We engage the services of logistics skill council, an apex body by Ministry of Skill Development and Entrepre-neurship and National Skill Development Corporation, to execute initiatives to enhance education and skills for its workers.
Overall, by investing in training and development of the workers, we are committed to create a more skilled workforce and improve the efficiency and effectiveness of our operations.
Providing best-in-class solutions
In terms of skills, the industry must develop expertise in data analysis, automation, and supply chain optimization. For example, use of sensors and other IoT devices has enabled logistics firms to monitor shipments in real-time, provide visibility and control over the supply chain. Similarly, use of AI and ML algorithms helped improve forecast-ing accuracy and optimize routing and delivery schedules. There is room for improvement and challenges the in-dustry must address to provide best-in-class solutions to clients. There is a need for collaboration and integration across the supply chain, and a need for flexible logistics solutions that can adapt to changing market conditions and customer needs. While logistics and air cargo industry progress in developing new skills, there is still work to be done to ensure it can provide the best solutions to clients in a complex global marketplace.
Creating skilling infrastructure
To create better infra and attract millennials, the sector needs to invest in upskilling and reskilling programs to en-hance the workforce's skills. This will help retain employees and attract millennials seeking career growth opportu-nities. Logistics firms can collaborate with educational institutions to design courses and programs tailored to the industry's needs, thereby creating skilled workers ready to join the industry. Since the sector is dependent on technology, the firms must invest in technology and provide training to employees. Millennials are tech-savvy and providing them with the latest tech and training will attract them to the industry. Logistics must promote itself as an exciting career option for millennials. This can be done by targeting campaigns and showcasing success stories of those who have made a career in the sector.
Tech adoption leads to new skills, capabilities
Ayesha Katgara, Head – Corporate Strategy, Jeena & Company
Upskilling manpower
We have started hiring management trainees from colleges and after completion, impart them on-the-job training and absorb them in our company in various departments based on their interest—air import, air export, ware-housing, pricing, and customer service. In the past, we had trained candidates and absorbed them in our company. We nominate our employees for training in logistics courses through ACFI and other institutes. Last year, our em-ployees attended 680 such training sessions. This year, we plan to nominate more. There is a customs exam for 'G' Card by CHAs across India and we encourage our employees to undergo training, appear for the examinations and get certified. This has been an ongoing activity in Jeena and Company since decades.
Providing best-in-class solutions
Logistics and air cargo sector has been adapting to latest tech and changing market demands, leading to develop-ment of new skills. With technology advancement, there is a need for the industry to develop skills related to digi-talization, data analytics, automation, and AI. Logistics and air cargo firms are investing in drones, autonomous ve-hicles, and Blockchain to improve their ops and provide better services to their clients. The industry is using data analytics to optimize their supply chain processes and provide real-time tracking of shipments. To keep up with the fast-paced changes, logistics and air cargo firms invest in training their workforce and hire new talent. Companies embracing digital transformation and have skilled employees to manage new technologies are better positioned to provide best-in-class solutions to their clients.
Creating skilling infrastructure
There are some courses i.e., Diploma Course in Transport and Logistics Management and PG Diploma Courses in Logistics and Supply Chain Management provided by Indian universities. Since awareness for the same is absent among the students, not many opt for these courses. These diploma courses are available after graduation and by then, the students are attracted to other courses, which could be opted for after Class 12. During placements, we conduct a presentation about the industry, its scope and opportunities. These presentations are done to 300-400 students in colleges in a few cities in India where we have our main branches every year. So, in a way we try to ed-ucate them about the career prospects in the logistics industry and lure young talent to join the industry.
Trained personnel must for network expansion
Vijay Vashisht, AVP, Safexpress
Upskilling manpower
Logistics as a business vertical has been an archaic system of complex ops comprising temporary storage spaces managed by overloaded trucks running to the brim. Goods were produced and consumed but there was no time-line of its availability to the consumer and equilibrium between demand-supply often amiss. There was no transit schedule and waybill-tracking were unknown.
Today, there is a sea-change. We have modern warehouses dotting the urban and semi-urban landscape, con-nected on a hub-and-spoke model within specified transit times. From the past decade, there is an initiative to col-laborate between industry and academia that looks to facilitate transition of skilled manpower. Safexpress was founded in 1997, when the liberalisation and opportunities were firming up and we recognised the fact that growth and network expansion could be afforded only by competent and skilled man-power at all levels of organisation. Safeducate came into being in 2008. Apart from imparting training for internal needs, it offers short-duration courses to youth and helps them seek jobs in the industry. In the mid-2010, Safedu-cate tied up with SDCI to impart skill-based training in logistics, express distribution, and address skilled manpower deficit of the industry by finding suitable jobs for them. Safeducate has come out with 'Seekho' App, which offers online education to aspirants.
Best-in-class solutions
Logistics and distribution have broken ground for digital innovation for bringing about transparency in operation is concerned. In 1990s, an enterprise would place an order and would come to know about it only when it came for delivery. Cut to today, instant online phone-based order tracking, along with a comparable real-time process, are an expectation of doing distribution business.
Over the past five years, distribution has made groundbreaking innovations such as bar code, GPS, and RFID techs. This has reduced manual intervention in operation at all the levels, reduced misrouting or need for redirection to negligible and allowed to identify that every package on the network of supply chain with a click. Cloud ERP solution is one such tool. Interconnectivity of various segments of business by smart EDI linkages and WMS solutions would take distribution industry to new levels of efficiency and economy.
Staff training and development imperative
Amit Maheshwari, Founder and MD, Softlink Global
Upskilling manpower
In today's evolving world, every industry is experiencing a digital and technological transformation, including the logistics and supply chain sector. It is crucial for professionals in this field to be updated with the tech advance-ments and provide effective solutions.
At the Softlink Global, we understand the significance of learning and development as an aspect of our culture. Upskilling can also yield benefits for both individuals and organizations, foster talent retention and promote a posi-tive, growth-driven work environment. In this connection, our company has recently collaborated with the Univer-sity of Mumbai's Garware Institute of Career Education and Development to equip future logistics and supply chain professionals with cutting-edge skills. The two-month Logisys Certification Program presents an opportunity for participants to acquire practical, hands-on knowledge in dynamic logistics domain. They will gain an understanding of transport management, customs and compliance, sales and CRM, invoicing, and financial accounting. We also plan to introduce certification programs under the Softlink Learning initiatives by partnering with various universi-ties in the country.
Creating skilling infrastructure
With the rising adoption of tech and automation, the future of logistics is likely to be digital and data centric. To capitalize on this growth, there is a need to establish a robust skilling infra capable of training millennials for the future. Creating skilling infra in logistics necessitates collaboration among industry leaders, government agencies, and educational institutions. This includes designing training programs that address the sector's needs and appeal to millennials. Ed-tech companies help by supplying online training resources such as webinars and video libraries. Audit and training programs can help evaluate employee skill sets and deliver targeted training to fill any gaps. By integrating them, firms can strive to become knowledge leaders. This will set up a dynamic and gratifying industry equipped to face the future challenges.
Bottlenecks
A concern for the logistics and supply chain sector is the scarcity of professionals. As the industry transforms, it demands specialists with expertise in areas such as data analytics, risk management, and sustainability. Neverthe-less, there is a shortfall of such skilled professionals, resulting in elevated recruitment expenses, diminished productivity, and decreased customer satisfaction. Therefore, it is imperative for organizations to invest in em-ployee training and development initiatives, attract and retain high-caliber talent, and implement contemporary HR practices to tackle the workforce shortage.
Skilled staff for boosting logistics performance
Ketan Kulkarni, CCO, Blue Dart
Upskilling manpower
We believe in learning as it benefits an individual or mid-career professional. Those in leadership positions too up-grade their skills. There are various trainings, some of which are focused on skill building specific to the sector. In FY 2020–21, we, in partnership with the EICI helped set up Pradhan Mantri Kaushal Vikas Yojana Skill Centre in Mum-bai to provide education, and livelihood enhancement. As part of Deutsche Post DHL Group's DHL e-commerce Solutions division, Blue Dart runs Certified e-commerce Specialist flagship program to build future leaders. This ini-tiative has been set up to motivate our employees to execute Strategy 2025, 'Delivering Excellence in a Digital World'.
Creating skillset to enhance efficiency
The sector employs 22 million in India and 1.2 million more may join by 2025. Currently, 4.7 per cent of these are skilled, while most are unskilled or are partially skilled. In this regard, the state and central government policies are proving effective. The NLP focuses on leveraging skilled manpower for an efficient logistics network. The National Apprenticeship Promotion scheme, implemented by DG of Training under MSDE, includes job roles under logistics. Apex skill development centres for logistics has been set up to deliver logistics-related skills using cutting-edge technologies in many states.
Future projections
Recognizing the surge and job creation potential, the government gave a push for industry-specific skill interven-tions. The Logistics Sector Skill Council has been scaling skilling through industry and cross-departmental partner-ships. Currently, it offers 50 qualification packs in warehousing, land, and air cargo, EXIM logistics, courier, and mail services. Institutes—CII-Institutes of Logistics, National Institute of Logistics and Material Management, Tata Driv-ing Schools—offer courses in supply chain management, warehousing, and transportation. Centre of Excellence in Logistics and Supply Chain Management at NITIE is step towards capacity building.
Bottlenecks
Changes such as increasing digitization of the supply chain, have made firms to act fast and redesign their ops. It is crucial for logistics workforce is upskilled to ensure their retention and growth, given the changing scenarios. Avail-ability of skilled manpower can improve performance, leading to reduction in logistics cost, time, and making the system more reliable and safer.
Advanced tech, trained manpower are important
Vijay Gupta, General Manager, Amrit SeaAir Express
Upskilling manpower
Yes. Logistics sector is on the upswing after COVID and that is why there is demand for manpower. Gati Shakti initi-ative will help in ease of doing business and promote trade and commerce and Make in India and National Logistics Policy initiatives. Training manpower in logistics sector is needed as the new tech is being used in warehousing with which the staff must be aware. Our company has an inhouse training for our employees. The logistics industry is experiencing rapid growth, driven by the rise of e-commerce and tech advances such as automation and data ana-lytics. The growth has led to demand for skilled professionals in logistics, providing many opportunities for millen-nials seeking a career in this field. Several areas within logistics offer career paths, including supply chain manage-ment, logistics and distribution, transportation, technology, and sustainability. Skilled supply chain managers are needed to ensure flow of goods, and demand for warehouse managers, logistics coordinators, and distribution centre supervisors is growing.
Way forward
As technology plays a vital role in logistics, there is a need for professionals skilled in data analytics, AI, and automa-tion. Transportation is a logistics component, offering opportunities for truck drivers, pilots, and transportation planners. With action against the climate crisis gaining momentum, the industry is focusing on decreasing CO2 and becoming more sustainable. Op-portunities for those passionate about environmental issues and sustainable supply chain management.
Initiatives
The industry is transforming at a rapid pace with Make in India, PMGS and rise of e-commerce. It is vital to create a pool of skilled manpower. The industry is an area of concern as only few institutions impart training in warehousing and logistics industries.
Utilize AI, ML to optimize efficiency of supply chains
Huned Gandhi, Managing Director, Air and Sea, Indian Subcontinent, Dachser India
Best-in-class logistics solutions
The industry has been evolving rapidly with advanced technology. Logistics and air cargo firms are investing in new technologies and skill sets to provide best-in-class solutions to their clients and keep up with the industry's chang-ing demands. Many firms are utilizing AI and ML to optimize supply chain ops and increase efficiency. Many organi-zations and geographic regions are adopting new tech in the production environment at varying rates. To better serve their clients, the logistics and air cargo firms are adopting new techs and skill sets. We, however, need more public and private training institutes to provide more avenues and courses for training, in-cluding hands-on orientation.
Create better skilling infrastructure
With the rise of new technologies, the demand for efficient logistics solutions is only going to increase. To meet this demand, the industry must invest in skilling and training programs to attract millennials who are looking for jobs in this sector. The future of logistics will be influenced by automation, AI, and Data Analytics, which are be-coming more prevalent. This will lead to efficiency and cost savings and improved customer service. Sustainability and environmental concerns will play vital role, with focus on reducing emissions and implementing eco-friendly practices.
Bottlenecks
The industry is experiencing a shortage of skilled personnel. Another challenge is rise of e-commerce, which is re-sulting in several smaller weight shipments. This increases the handling time and effort. Infrastructure challenges such as bottlenecks in the road network, cargo processing time, and process simplification are among the key are-as.
Skilled workforce boosts operational efficiency
Mehernosh Mehta, Chief Human Resource Officer, Gati Limited
Upskilling manpower
Logistics infrastructure has been categorized as one of the seven growth engines of the economy. A trained and skilled workforce boosts the operational and service delivery efficiency of the industry and makes it a key growth enabler for industries. Warehousing and transportation require trained human resources, as they define agility and responsiveness of any service. For roles such as operations head or shift-in-charge in a warehousing facility, mini-mum educational and professional qualifications are no longer sufficient. To deliver enhanced levels of perfor-mance in an evolving market, personnel working in these critical roles must continuously update their manage-ment skills and other related skillsets. That is why, at Gati, we focus on learning and development (L&D). As a part of our L&D goal, we have made it mandatory for all our employees to go through 16 hours of skill development program every year. Our revamped L&D program covers the spectrum of Gati workforce. We have launched a pro-gram containing modules on team and process enhancement, tech deployment, and customer centricity. We mon-itor the impact of the L&D program at various levels. All are gender agnostic and managed by in-house L&D team.
Creating skilling infra
The industry has robust job generation capabilities. The govt has placed emphasis on bringing in transformative impact in the form of PMGS and NLP. These initiatives will enhance India's logistics competitiveness and make the industry key driver of economic growth. These developments will make industry attractive to the millennials and job aspirants.
Bottlenecks
The benefits of learning need to be extended to the employees as well. Along with on-roll managers and execu-tives, they form an integral part of the logistics service delivery ecosystem. Trained employees help in boosting customer experience. It is critical to develop a diverse workforce in the industry.
Rising cost, GST adds burden to EXIM industry
Satish Lakkaraju, Senior VP and Global Head, Air Freight and Pharma, WIZ
Upskilling manpower
As far as our company is concerned, most people we hire have a formal education as per the industry require-ments and soft skills. We conduct regular training based on the requirements of the job that is to be performed. The air cargo employees undergo the IATA-mandated courses along with the DGR training. We have sales pro-grams in place, which help the team cater to the requirements of customers'.
Providing best in class solutions
The industry players provide best-in-class solutions. We can see more solutions coming in the next few years. We are seeing many airlines and shipping lines adopt technology solutions for better service and customer experience. Our portal has been recently updated with features according to the customer and user requirements, to keep up with the regulations, market, and vertical-specific requirements.
Creating skilling infrastructure
Skill building starts at home, and the industry leaders should loop their children with the know-how once they are old enough. The industry basically operates on political, economic, and environmental factors. Once the children become skilled at assessing the factors affecting them, it helps in their overall development. Another way is to do organize roadshows in order to spread awareness, allowing people to interact more with the industry. The industry has been among the higher-paying industries for the past few years and employs more people with a low attrition rate.
Bottlenecks
The rising cost of infra in respect to market conditions, and GST implementation on air and ocean freight are adding burden to the EXIM industry. With the rising cost of infra, the cost of office space increases, affecting growth. This apart, there is also a lot of uncertainty in the market conditions, because of the potential economic global reces-sion.
Latest tech must for skilled logistics workers
Dipen Lalsodagar, Deputy Director, Cargo Sales GSA, Global Aviation Services
Upskilling manpower
Logistics is a fast-growing sector in the country. A lot of the labour is delegated to other supply chain contractors that operate according to their own organisational framework. The logistics industry requires a lot of manual in-volvement, which must be directed into an integrated flow. All the stakeholders should be involved in the integra-tion of the system, and following the pandemic, the industry has become technologically dependent.
Best-in-class logistics solutions
India's infra and tech are constantly developing. Although some of the companies are accredited to handle types of sensitive items, small and medium-sized businesses have yet to enhance their infra, skilled people, and tech, which limit their ability to venture into handling products. Technology integration with the related stakeholders is required for the last-mile delivery. This allows the customer to trace his or her package at every point under one roof.
Better skilling infrastructure
PMGS, Make in India, NLP show a promising future for logistics. Growth of multimodal transportation demands trained workers in IT and machine technology. We must concentrate on teaching them the required skills.
Bottlenecks
For warehousing, we need to have the Air Freight Stations (AFSs) at various airports. e-AWBs concept is yet to be fully implemented at the airports.
Equip millennials with the right skill sets
Kavita Iyer, Mentor-Coach Ahaana Solutions
Upskilling manpower
The industry is emerging as a key job provider and hence many are looking towards it as a future career path and avenue for growth. Ahaana Solutions' mission is to upgrade employee skills across industries with focus on logistics and transportation sector. We sponsor and work with the needy to help them build a better future. I agree there is an opportunity for career growth in logistics and transportation industry, and it is unfortunate a small percentage of the workforce is trained and certified. It is crucial to equip millennials and job seekers with skill sets and know-how.
Initiatives
The Union government is promoting skill upgrades and certifications to provide better job opportunities. However, academic curricula have limitations and there is a need for industry-specific training and knowledge. It is essential to bridge the gap between what is taught in academic institutions, practical skills and the knowledge required by the industry. Opportunities for industrial visits, understanding of specific terms and tools and hands-on experience can be valuable in preparing the employees. Language and communication skills are critical, especially in the global context. It is essential for employees to have a decent proficiency in English to communicate with clients. Current-ly, the quality of English teaching in India is questionable, but I hope, efforts are made to improve this aspect of education and training.
Bottlenecks
Employers need to invest in training and learning and development. There is a constant refrain of 'We don't get good people nowadays'. There is a need to invest time, effort, and money in creating a better skilled force for fu-ture needs. This realisation is coming in, but more need to follow. I am hopeful a lot will be corrected, but we will arise as a major employment industry benefitting all stakeholders.
Digitization is way forward for logistics industry
Dax Theknath, Executive Director, Jet Freight
Joy John, Director, Jet Freight
Upskilling manpower
At present, we are focused on giving best solutions to our customer in optimizing cost and time. However, with advancement in technology, clients will get more visibility of shipment, cost, quick turnaround time in all aspects and transparency, which is the need of the market.
Better skilling infrastructure
Logistics is not about doing one thing daily, it makes people learn several things about routes, culture, and trans-portation hurdles and, importantly, the happiness behind success of making shipment reach a new destination dai-ly. In the coming years, the government will set up a lot of infrastructure for seamless transport of goods in India and overseas.
We see a lot of initiative from the education institutes and the government education projects, which will help the logistics industry develop. Advancement in technology will not only encourage millennials, but also make logistics industry an organised sector. I see more women taking up leadership positions in the logistics sector.
Initiatives
Jet Freight has always believed in training employees for various courses (DG and GDP certification) trending in transport and warehousing operations. We encourage our teams to attend conferences and workshops to under-stand the new developments in the industry. Many institutes are now initiated courses/degrees with logistics as the specialized curriculum and this is encouraging the younger generation to opt for the supply chain sector.
Bottlenecks
The pandemic has shown us how connectivity in logistics can be disrupted. We need to work around the supply chain solutions in disruptive times. Digitization is the way forward for the supply chain industry. Change is constant. Training, learning, and adapting to use advaned technologies are an area of concern. All we need is to learn, under-stand and accept the change.
Upskill workforce in warehousing, transportation
Krishan Kumar Agarwal, Chairman and Managing Director, CJ Darcl Logistics
Upskilling manpower
We recognize the need for skilled workforce to ensure efficient movement of goods. We believe investing in train-ing our employees is crucial for success and growth. Logistics sector lacks basic education in the field. We have tak-en initiatives to train of and upskill our employees, especially in warehousing and transportation. We regularly im-part training to our employees to enhance their skill sets.
For drivers, we provide videos and manual guide to make them aware about best road safety practices, while driv-ing. We conduct periodic assessments to identify areas of improvement to ensure our employees are updated with the latest policies and practices. We have assigned trainers to help our employees learn and adapt to ad-vanced techniques and tech, critical for growth of our company. We are committed to investing in upskilling of our employees to ensure we have a skilled workforce to meet the evolving needs of our customers and the industry.
Providing best-in-class solutions
CJ Darcl has grown over the years by offering many logistics services to its customers. Having its existence into road, rail, coastal services, the company extended its services in warehousing and distribution and air cargo, sur-face express. The company has acknowledged the boom of pharma sector, demand for e-commerce, and capital-ized on these opportunities by planning its new vertical. The firm aims to become total logistics service provider by 2027, offering door-to-door ops. It is an authorized agent for majority airlines and can book loads at any time. In line with its 2023 agenda, CJ Darcl plans to widen its reach, breaking the borders to offer its services to the global customers.
Creating skilling infrastructure
The industry is evolving due to tech advancements, changing consumer behaviour, and globalization. With the rise of e-commerce, demand for streamlined processes has increased. COVID has configured adoption of new tech and digitalization in the industry. In the future, logistics may become more autonomous, with the use of AI, ML, Robotics, and drones. This will help in cutting costs and increasing efficiency.
Sustainability is a rising concern for consumers and companies. The industry is focused towards adopting environ-mentally friendly practices—EVs, LNG, alternative fuels, green packaging, and sustainable sourcing. It will need tech advancements and a skilled workforce to stay ahead of the competitors.
Education must in warehousing, transportation
Alpana Chaturvedi, Chief Executive Officer, MyLogistics Gurukul
Upskill manpower
Barring few jobs in the warehousing and transportation sector, all jobs require formal education and many skills. All workplaces, including warehouses, have transformed, hence upgrading of skills is a must to handle these changes. We have developed short modules for upskilling the existing workforce. These modules range from three hours to nine hours. The modules are a mix of technical and non-technical ones such as Loading/Offloading, Basics of Ware-housing, Documentation, Customer Service, Communication Basics. The duration is short as it is difficult for people to be away from their duties for long. These courses could be taken online as well as offline. We are working to-wards some self-learning videos to perform specific functions by watching it on mobile phones. Skilling is a contin-ues process and not a one-time exercise.
Upgrading skillsets in logistics
Advancement in technologies, processes, trainings, and skilling go hand in hand. It is not possible to introduce new processes, procedures and not bother to upskill or train people and make them job ready. In fact, since changes are taking place rapidly, it will be judicious to have a future ready workforce. Of late, many functions have changed from manual to automation, so the workforce must be geared to make bookings online, check availability of rates, issue e-AWBs, ERP systems and documents filing. In fact, training is important for participants to understand the repercussion of mistakes that could cause huge revenue loss for the organization/s. With the penetration of au-tomation causing an impact on many functions—I believe it must be supported by trained manpower.
Areas of concern
Logistics is still not a preferred career choice amongst youngsters. So, it must be branded well to attract good tal-ent
There is a wide gap between skills needed to make freshers job ready and knowledge being gained from univer-sities/colleges
MyLogistics Gurukul is an initiative to bridge the loophole between conventional knowledge providers and the need of the industry
The global pace and adoption of technology is a crucial area of concern, along with concentrated movement of international goods between few nations for past 100 years.
The eco-system must be equally spread in the different logistic modes
Logistics preferred profession for millennials
Amitabh Singh, Chief Growth Officer, Stellar Value Chain Solutions
Upskilling manpower
At Stellar, we are committed to supporting and hiring candidates keen to learn and grow. We are a tech-enabled fully integrated supply chain solutions service provider. We conduct training sessions to provide computer training, safety training, WMS training, TMS system, 5 S training, sorting, and packing among others.
Providing logistics solutions
Logistics firms today are taking up advanced tech to transform their supply chain from a pure ops hub to becoming an epicentre of business innovation. Forward-thinking firms make effort to impart training to employees for be-coming efficient in providing best-in-class solutions, right from collecting data at every checkpoint, updating the status of raw materials flow, and location of goods. We have developed some tools such as SMART Space Man-power Assets Risk management and Technology to help in defining, measuring, and improving the services provid-ed to our customers. We have created a control tower to monitor and manage the inventory across the supply chain.
Create skilling infrastructure
It has dawned upon the world that supply chain is the backbone of any industry and crucial for growth of any coun-try. This outlook has led to upgradation in infrastructure—Grade A warehousing facilities, adoption of technology to enhancement of service levels to customers. Educational institutions have introduced supply chains giving impe-tus to the industry and helping in attracting inherent talent.
Investment in upskilling workforce significant
JB Singh, Senior Director, MOVIN Express
Upskilling manpower
At MOVIN, we have recognized the need for skilled workers to drive growth and innovation in the industry. To ad-dress the skills gap, we offer training and certification programs, on-the-job training and apprenticeship. These ini-tiatives help our partners, employees and customers gain practical experience and acquire new skills. We have training modules for our partners, customer service team, and employees. At MOVIN, our focus is on tech ena-blement, with our OJTs and soft skill enhancement on all our LMS platforms. Our focus is on building an ecosystem for ease of operations. By developing a skilled workforce, MOVIN is equipped to meet the demands of a growing industry.
Best-in-class solutions
The industry recognizes the need to keep up with tech advancements and customer demands to provide best-in-class solutions. At MOVIN, we are investing in upskilling our workforce through training programs and, through our certified programs. COVID has speeded up need for digital transformation and contactless ops, which has led to development of new skills such as safety protocols, risk management, and supply chain resilience.
Creating skilling infrastructure
In the future, logistics will be driven by tech and data analytics. Automation, robotics, and AI will play a greater role in warehouse management, transportation, and supply chain optimization. We at MOVIN aim to prioritize sustain-ability and green initiatives to reduce its carbon footprint and increase efficiency.
Awareness of evolving technology in logistics
Abhijit Verma, Founder & Managing Director, Avinya Logistics & Industrial Parks
Upskilling manpower
While the logistics industry transforming from the godown era to Grade A assets, this industry is still not the first choice of students. We have set up a skill development center at all our developmental and industrial sites to offer on-the-job training to locals and provide them with certification to enable them to participate in the industry, if it means working with others in the industry.
Better skilling infrastructure
To sustain this growth, there is a need to build a framework for better skill development. Unless the industry fo-cuses on core training of its workforce, it will not be able to sustain the next level of growth that logistics is bound to witness in a few years. So, a skilled architecture needs to be developed: on-the-job training, and development and a work-life balance.
Best-in-class solutions
It is important to drive awareness of the evolving techs to keep pace with the evolving industry. From warehouse management to robotics, AI, ERP systems, and sorting tech, these developments play a vital role in bringing effi-ciencies in operations and upskilling employees at a similar pace to ensure sustainable growth. This opens oppor-tunities for skilled labour with a number of third-party service providers entering the fray.
Challenge is to maintain stability, continuity
Manju Korah, Vice President, Operations, Snowman Logistics
Upskilling manpower
We employ a mix of skilled and semi-skilled workers who perform a variety of tasks. Our workforce is divided into several categories, including shopfloor warehouse associates, pickers, packers, and team leaders. At the Snowman Logistics, we have a committee for shop floor recruitment that recruits semi-skilled and skilled workforce. The training begins with a daily huddle (meeting) in which the day's work plan is explained, which includes product training, 5S & Kaizen, safety and security, weekly shop floor training. After completing six-12 months on the shop floor, the company identifies candidates who can be upgraded as team leads and executives. We have a career progression plan in place wherein we nominate such skilled employees for higher education. Basic education plays a vital role when it comes to upgrading the workforce.
Better skilling infrastructure
There is a need to attract millennials and provide them with careers in logistics. More training opportunities, includ-ing internships and on-the-job training, are needed to hone the staff's skills and update their know-how. Engi-neers and management professionals have recently been drawn to supply chain management as a potential career path. The challenge for such trainees is to maintain stability and continuity. We recruit a pool of management trainees, who are assigned to various departments. We designate them as assistant managers after one year. We give the trainees opportunities to express their opinions on development and expansion activities. Overall, the industry may grow further, with increased technological adoption and focus on sustainability.
Bottlenecks
Currently, skilled labour is critical as it determines the effectiveness of the supply chain. In future, there will be a scarcity of blue-collar, semi-skilled, and skilled workers. To promote logistics, a specialized subject will be included in the curriculum. There is a need to set up logistics institutes in tier II and III cities.
Imparting skills to interpreting data correctly
Snehil Singhai, Head, Business Development, KSH Logistics
Upskilling Manpower
We at KSH Logistics create training programs providing workers with skills they need to perform their jobs. This can include training in areas such as safety, communication, inventory management, and customer service. There are internship programs, allowing workers to learn on the job. This type of program can be useful for workers, who are new to the industry or want to develop new skills wherein we help develop techniques that can be useful in roles by giving them opportunities to learn about different areas of the business.
Creating skilling infrastructure
To create a better skilling infrastructure and attract millennials to the logistics sector, we have the following strate-gies:
Offer flexible work arrangements: Millennials value work-life balance and flexibility. We offer remote work, flexible scheduling, and job sharing to attract millennials.
Provide growth opportunities: We offer mentorship programs, career development plans, and opportunities for cross-functional training to millennials.
Embrace technology: Millennials are comfortable with tech and expect the firms they work for to be technologi-cally advanced. We at KSH Logistics use tech by implementing automation, digitization, and other solutions to im-prove efficiency.
Promote a positive company culture: At our company, we have a positive culture that offers mental health sup-port, flexible scheduling, and staff resource groups.
Bottlenecks
Skilled manpower is must for the industry. To ensure that the supply chain runs smoothly, we must smoothen out various departments, including warehouse management and transportation.
Future projections
Indian logistics is a sunrise sector, there are a plethora of opportunities knocking the doors of logistics aspirants. The industry is expected to expand at a compound annual growth rate (CAGR) of 10 per cent, increasing from US$200 billion in 2020 to US$320 billion in 2025. Additionally, the Economic Survey suggests that the supply chain disruptions are also set to mitigate through the year. Furthermore, digital transformation is believed to be the only way forward. In a Supply Chain 4.0 world, industry has 'smart, Grade A multimodal warehouses, freighter aircraft with sophisticated and best-in-class technologies to maintain the integrity of the shipments, tech-powered trucks, and reefer vehicles. These provide real-time analytics, and cargo tracking facilities to the customers and other con-cepts to make the process easier and the outcomes profitable. The future will lead to real-time control and trans-parency, which will be beneficial in tracking performance. Integrating technolIoT will be the way forward for com-panies, which will help them carry out tasks efficiently and maximize potential. However, the need to increase manpower works in tandem with technology.